Looking to buy a Calphalon Waffle Maker?
Keep reading this article to find out which best fits your needs!
In this article, I will describe two Caphalone precision control waffle makers available for purchase on the market. I will go through their technical specifications and other features. In the end, compare presented Calphalon waffle iron makers and decide which one is the best for you.
The Calphalon Brand
Variety Of Calphalon  Brand
Founded in 1963, the Calphalon brand has a very rich past and with it, years of experience in kitchenware. Besides waffle makers, Calphalon brand also manufactures other kitchenware such as non-stick pans and pots, knives, coffee makers, and other kitchen utensils. Their main focus is to help enhance and improve your cooking skills.
Calphalon Waffle Makers Price
Price of Calphalon waffle makers is a bit higher than some other waffle makers on the market, but according to customer reviews, they are worth every penny. These waffle makers are high-quality and buyer's reviews often complement their nonstick surface which makes cleaning effortless.
Where To Buy Calphalon Waffle Iron Makers?
While they do offer and ship products from their official site, I would recommend online retailers such as Amazon. There you can find Calphalon iron waffle makers at lower prices and discounts, also you can read reviews from people whole bought them and their experience using them.
Warranty And Return Policy
Whether you decide to buy waffle makers from Calphalons official site or online from Amazon you can request your warranty. Calphalon waffle makers have a 3-year limited warranty. In case you're not happy with any of your Calphalons products, including waffle makers the return policy is 60 days. Merchandise has to be unused and customer pays for return shipping costs. In case you have any problems or question you can reach Calphalons customer service via their e-mail or phone displayed on the website.
Best 2 Calphalon Waffle Iron Makers Reviews
Calphalon Intellicrisp Waffle Maker
Nonstick Ceramic Plates
This Calphalon waffle maker has a ceramic cooking surface that allows for more even heat which makes for fluffier or crisp waffles. The ceramic surface is also more durable than standard non-stick surfaces. It allows you to choose between 5 waffle shades of browning and crispiness, based on your liking.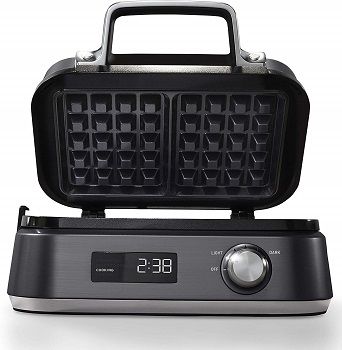 LCD Screen Display
In the front, you will see a high-contras LCD screen display that projects a countdown timer so you can track the cooking process. This allows you to time and carefully set your waffle cooking preferences. With it, it also comes to a beeper to signal you when the waffle cooking is done.
Easy cleanup
Due to the ceramic non-stick surface of this waffle maker cleaning it is quite simple. Once you've made your waffles let it cool down and wipe it down with a damp paper towel to remove any food residue. You can also use warm water and soft cloth. Be sure to use non-metallic utensils with it to prevent any scratches.
Convenient vertical storage
The Calphalon waffle maker locks in the front for convenient, vertical storage. This way you can fold and lock your waffle maker and store it in your cabinet.
Characteristics:
Nonstick ceramic surface
2 Belgium waffle capacity
LCD timer display and beeper
Easy cleanup
Calphalon No Peek Round Waffle Maker
High-performance bronze interior
Calphalon no peek round waffle maker has a bronze nonstick interior that allows you to easily take out your waffles once they're done. Also, the non-stick pans make it easy to clean the waffle maker. It heats up quite quickly and it's very easy to operate.
Sleek vertical compact
When you're not using your no peek round waffle maker you can easily fold it and clasp it in the front so that it can be stored upright into the cabinet.
Characteristics:
1 year limited/ 5-year unlimited warranty
High-performance interior
No peek indicator
Conclusion: What Makes These Calphalon Waffle Iron Makers One Of The Best Ones On The Market?
Calphalon Intellicrisp waffle maker, the first one mentioned in this article is a great machine with both sound and timer indicator for those who are always in hurry, while No peek round waffle maker has a high-performance bronze surface which makes it really easy to take out once baked waffle.
Both are a great addition to anyone's kitchen.
If you wish to learn more about some other waffle makers, feel free to check out this best-rated waffle maker list. Maybe you're more of a Belgian waffle maker or perhaps you want to have some fun in the kitchen with a heart-shaped waffle iron, it's all up to you!