If you are tired of classical Belgian or American style shaped waffles, fish waffle makers might be the right choice for you.
In this article, you will learn more about Taiyaki makers – what do they make and what are their specifications. This should help you decide which Taiyaki machine will be the perfect addition to your kitchen.
Taiyaki Fish Waffle Makers
What Is Taiyaki?
Taiyaki is a fish-shaped cake that originates from Japan. It is imitating the shape of Tai, Japanese red seabream after which it was named. Taiyaki cakes are known as bungeo-ppang in South Korea, which is why these waffle fish makers are also known as bungeo-ppang machines.
A Fish Shaped Waffle Or A Cone
Taiyaki fish waffle makers can bake both fish-shaped waffles or fish-shaped cones. Taiyaki cone makers have noticeably different baking plates to achieve necessary hollow shape for them to cone. That being said, before buying a Taiyaki waffle iron you must decide if you would prefer waffles or cones more.
Baking Plates On Taiyaki Makers
Baking plates on all Taiyaki machines must be specially molded and they are not removable. Even though there aren't many companies that produce Taiyaki makers, the fish details still vary from company to company. The non-stick properties of the Taiyaki makers are easy to maintain with proper care – use damp cloths and don't use abrasive or strong cleaning detergents.
Where To Buy Taiyaki Fish Waffle Maker
The best place to buy Taiyaki fish waffle maker is Amazon. Because of special plate molding and design, these fish waffle makers are usually on the more expensive side. Amazon offers the best deals and you will surely find a model that fits your pocket and fills all your Taiyaki waffle iron expectations.
Best 2 Taiyaki Maker Reviews
Best Electric Taiyaki Maker
Fish Shaped Waffle Cone Baking
The Taiyaki waffle cone is made with waffle batter or regular pancake batter. After the batter is poured in the Taiyaki ice cream cone maker, you close the fish mold with the handle. Your fish-shaped waffle cone maker will be done with your Taiyaki cones in a matter of minutes. This electric Taiyaki maker bakes three Taiyaki fish in one batch.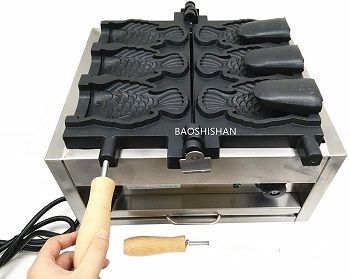 Fish Cone Maker Fillings
After you are done with baking in your Taiyaki fish waffle maker it is time to fill up your Taiyaki fish. The most common filling for Taiyaki is a paste made from sweetened azuki beans. Other fillings which are quite common include cheese, custard, and chocolate. In some stores, you can even find the Taiyaki fish filled with gyoza filling, okonomiyaki or sausage.
Taiyaki Ice Cream Cone Maker Maintenance
This fish-shaped waffle maker may be big in size, but that doesn't necessarily mean that it is hard to maintain. Fish waffle machine has special non-stick baking plates which are easily cleaned. The pure robustness of this fish waffle iron means that you don't have to be as delicate or as careful with it as with other waffle makers. Just make sure not to use abrasive chemicals on the plates, so they don't lose their non-stick properties.
Specifications:
Bakes 3 Taiyaki fish cones at a time
Non-stick baking plates
Large in size
Best Mini Taiyaki Maker
Mini Taiyaki Maker Baking
This mini Taiyaki maker is the perfect appliance if you wish to change up your standard waffle routine with delicious fish-shaped waffles. This Taiyaki waffle iron bakes six small and delicious Taiyaki fish-shaped waffles in just 3 minutes. The non-stick Teflon coating prevents your Taiyaki waffles from burning.
Taiyaki Waffle Maker Design
This Taiyaki machine is made from stainless steel and features a corrosion-resistant construction which will last throughout the years. The design of this fish-shaped waffle maker is so simple that even children can operate it. This Taiyaki maker features an efficient heater, small pre-made openings on the side of each Taiyakiwaffle hole. Baking fish-shaped waffles have never been easier!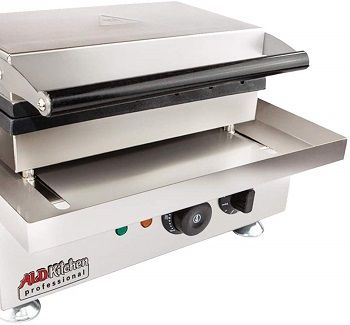 Taiyaki Fish Waffle Maker Safety
The Taiyaki waffle maker has a baking pan separated from the machine bottom. This prevents internal elements from heating while baking your Taiyaki fish, and also reduces the risk of any fish waffle maker related kitchen accidents. This feature is also one of the reasons why this waffle fish maker would be great to use as a commercial Taiyaki maker.
Specifications:
Bakes 6 small Taiyaki fish
Non-stick coating plates
Stainless-steel exterior
High safety level
Conclusion – Which Taiyaki Waffle Maker Is The Best For You
When choosing a proper fish waffle maker for you, you must decide if you would like to make Taiyaki waffles or Taiyaki waffle cones. This Taiyaki waffle cone maker bakes three Taiyaki cones at the same time. This Taiyaki machine is robust, highly durable and has a non-stick coating. This Taiyaki waffle maker is a great option if you enjoy small fish-like waffles. Taiyaki maker bakes 6 small waffles in minutes and the smart design makes it a great option for restaurants as a commercial Taiyaki maker.
If you want to read more about top waffle makers be sure to continue on this article right here. Here you can find more information on the commercial Belgian waffle makers, while in this article you can read more about bubble waffle makers.