Are you a hotdog lover or would you like to taste lolly waffles?
Then you need a hotdog waffle maker and you can find out all about it in this post.
I will give you some information you might be interested in the hot dog waffle machine. In this post, you can also read 5 reviews about the best waffle dog maker models. In the end, you will be able to decide which hotdog lolly waffle maker is the best choice for you.
What To Know About Hotdog Waffle Maker?
What Is Hot Dog Waffle Machine?
This is a lolly waffle maker that is purposed for making hotdog waffles. It's a kind of waffle with hot dogs or sausages. The griddle of the hotdog waffle maker has a classic hotdog shape. There's also a waffle maker with dog-shaped grids. It makes classic waffles, without a hot dog.
Classic Hot Dog And Lolly Hot Dog Waffle
The difference between the hot dog and the lolly hot dog waffle is in the dough. When you prepare a hot dog, you have to cook it in the water or on the roller and put it in the bagel. The hot dog waffles are made of the hot dog and waffle batter instead of a bagel.
How To Prepare Hotdog With Waffle Maker?
Before you pour the waffle batter on the waffle maker, you have to put a hot dog on a stick. Then you pour the batter on the maker and dip the hot dog in the batter. You close the waffle maker and wait for lolly hot dog waffles to be ready. These waffles are known as a lolly. They have an oblong shape and you can eat these waffles by holding the stick.
Hotdog Waffle Maker Price
The commercial and bigger waffle makers with temperature regulation and more useful features have a price above 100 dollars. Their quality requires a higher price. Smaller and simple hotdog waffle maker models are cheaper. They are affordable and cost about 20-30 dollars.
Top 5 Hotdog Waffle Makers For Sale
Best Lolly Waffle Maker
Happybuy 6 Pcs Lolly Waffles Maker
Big And Stabile Machine
This hot dog waffle machine makes 6 pieces of lolly waffles. It has two rotating buttons and two lights which show you when the dot dog waffle maker is ready for preparing. Its size is about 15 inches long and about 13 inches wide. When the maker plate is open, it has a height of about 15 inches. This waffle maker is stable when you set it on a straight surface.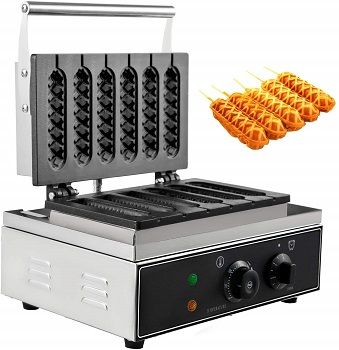 Made Of Quality Material 
The surface is made of Teflon material, which means that there's less possibility for hot dog waffles to stick and you can clear it easily. This lolly waffle maker is made of stainless steel, so it's long-durable and healthy. The dot dog waffle maker doesn't produce steam, so it's suitable for indoor places.
Cooking Mechanism And Time
This lolly waffle machine works using 110V and 1550W power and it takes about 5 minutes for the hot dog waffles to be ready. You can regulate with the temperature, so you can choose if the waffles will be more or less browned. You can adjust this using the control panel which is similar to a cooker, so it will be familiar to you.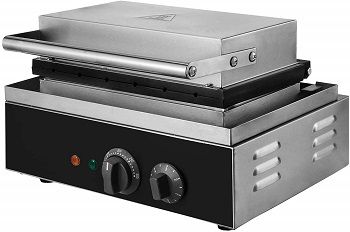 Control Panel Options
You can choose the temperature from 50 to 300 degrees. The control panel has a timer you can operate with. The timer has the alarm, so you will hear when the hot dog waffles are baked as you'd adjusted. There are also red and green lights on the control panel which shows you if the maker is heated enough.
Cooking Instructions
The hot dog waffle maker takes about 5 minutes time to be warmed. So, have it in your mind before cooking in order for you to make the first six hot dogs crispy. Make sure you're read the instructions before using the machine because there you can find useful cooking advice.
Specifications:
stainless steel
non-sticking surface
6 frames
adjustable temperature
Best Commercial Waffle Dog Maker
CGoldenwall Commercial Electric Waffle Maker
6 Pieces Of Waffles
Like the Happybuy hotdog waffle maker which I reviewed firstly, this waffle machine also has an adjustable control panel and can make 6 hot dog waffles at the same time. You can use rotating buttons to regulate the temperature form 50 to 300 degrees. The waffle maker also has two light buttons as heat signals.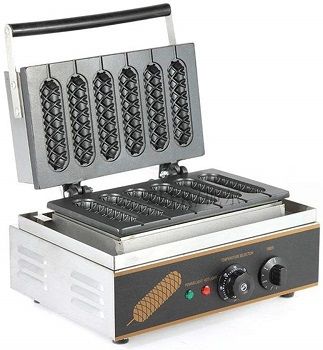 Heavy And Big Sized
You can also set the timer for the most 5 minutes. This is very helpful if you use the hot dog waffle maker for business. This waffle maker is about 15 inches long, so you have to ensure enough place for it. Moreover, it isn't so light, so it's not so advisable to move it often.
Durable And Practical Material
This hot dog waffle machine voltage is 110V and the power is 1500W. The material of the griddles is Teflon, so you can be sure the cleaning is easy and the waffles won't stick. The waffle maker body material is stainless steel. This material ensures you the product is durable.
Helpful In Industry
This lolly waffle maker has a small round opening on the plates for the sticks inserted in hot dogs. This allows you to make the hot dog waffles quickly. This helps you a lot if you use the maker in the industry. The temperature regulator and the timer can help you to adjust how much browned the waffle will be.
Specifications:
stainless steel
opening for hot dog sticks
Best Big Lolly Waffle Maker
ALDKitchen Hot Dog Waffle Maker
About 5-inch Long Waffle
This waffle maker can bake the hot dog waffles and loli pop waffles at the same time. The grid has 3 places for hot dogs and the other 3 frames are loli pop shaped. The size of this waffle maker is about 16 inches long and 12 inches wide. You can get about 5-inch long lolly waffles.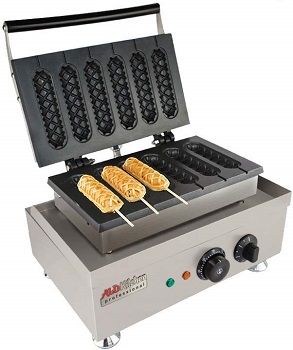 No Sticking Material 
The material is stainless steel and Teflon, just like the previous models. So the cleaning of this hot dog waffle maker will also be easy and there's no sticking. You can notice openings for the hot dog sticks, which is useful for you to handle the hot waffles. It takes about 5 minutes for waffles to be browned.
High Voltage 
This waffle maker can work on 220V. The control panel is the same as the other models' control panel. You can set the temperature using two buttons. Behind them, there are light buttons which are signals for the heat of the grids. The instruction prescription will tell you how to use the control panel.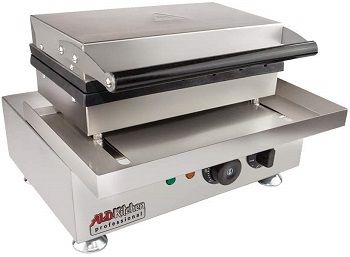 Many Purposes For Usage
Its size and weight aren't so comfortable, so this lolly waffle maker is purposed to stand at the same place. It's practical for your restaurant or Caffe bar as well as for your kitchen if there's enough place. The ALDKitchen offers money returns if the customers aren't satisfied with a product. So if you doubt about buying it because of the price, you can purchase it and return it if the maker won't fit your needs.
Specifications:
220V
5-inch long waffles
5 minutes of baking
Best Small Hotdog Waffle Maker
J-Jati Waffel Corn Dog Maker
Light Signals For Temperature Regulation
This hot dog waffle maker has a small size and makes small hot dog waffles. It's less portable because it's light. It can cook 6 waffles at once. This waffle maker doesn't include a control panel for temperature regulating. You can regulate how much you like for waffles to be baked at the way to keep them longer. You shouldn't open the waffle maker before you see the green light signal.
A Lot Of Waffles 
Not only you can make hot dog waffles using this machine, but you can also cook the cheese and insert a stick in. The waffle maker can prepare the pizza waffles and corn dogs, too. So this small waffle maker has a large range of applications.
The Red And Green Lights
Before using the maker, you have to plug in and wait for green light to lights up. That's the sign the waffle maker is warm enough and ready for cooking. When you pour the batter and close the plate, you will see just red light again. So when the green light switches on again, the waffles are ready.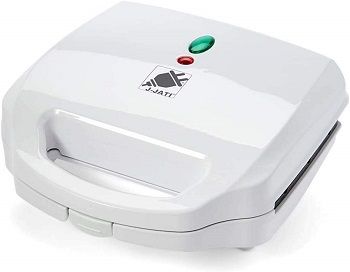 The Cooking Process
You should season the waffle maker with oil or cooking spray. You should have in mind the batter quantity will increase when you insert the hot dog or sausage, so it's better to pour a little bit of batter and add it later if you need it.
Specifications:
light and portable
6 mini waffles
light regulator
season needed
Hotdog Waffle Maker Version: Dog Shaped Waffle Maker
CucinaPro Animal Waffle Maker
Dog Shaped Waffles
Unlike the previous waffle maker model, this one hasn't a hot dog-shaped plate but the dog and other animals shaped surfaces. It has a round griddle where you can cook 7 small waffles at the same time. The waffles have different shapes. You can make two dog-shaped waffles and also a cat, a bear, a deer, and two tigers.
The Size Of Animal Waffles
The waffle maker can use 110V power for cooking. The waffles have the same thickness as usual waffles which you can make using a non-shaped waffle maker. The size is only different. These dog waffles are a little bit smaller than regular. So this waffle maker is ideal for preparing meals for your children.
Non-Sticking Surface
The surface of the waffle maker is non-sticking, which is good for baking and cleaning after baking. The best for cleaning this dog waffle maker inside is dry cloth. It takes from 3 to 5 minutes for the animal waffles to be browned. The time of cooking depends on your preferences. The red and green light will message you when the waffles are warm enough.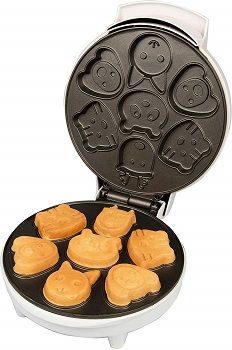 Practical For Carrying 
This dog-shaped waffle maker doesn't take a lot of space. You can lay it upright and make more space in your kitchen. It's practical for use because you can carry it easily. It doesn't have to stand in the same place all the time. You can bring it and clean up in the box, depending on the time of usage.
Specifications:
7 animal-shaped waffles
up to 5 minutes of cooking
non-sticking material
Conclusion: Which Hotdog Waffle Maker Is The Best?
There's no one answer to this question. All the models I reviewed in this post are good quality waffles makers, so you won't get wrong buying any of them. But if you want a stable, temperature regulate and different shaped grids lolly waffle maker, I recommend this ALDKitchen waffle maker. If you need a small hot dog waffle maker, this J-jati hot dog waffle maker might be for you.
If you'd also like to make mini pizzelle, check this post about mini pizzelle maker. If you need a waffle maker for your business, read this commercial waffle maker post. And before buying, make sure you'd checked this post about the best-rated waffle maker.