Are you dreaming about perfect fluffy breakfast waffles? Thinking about buying a Chefman waffle maker? You came to the right place!
Chefman volcano waffle maker is only one product from the Chefman waffle maker family that will help you to easily create perfect waffles every time.
This article will describe six different waffle makers from Chefman. It will also briefly introduce you with their usage. Read about their features and decide which would be best for you.
The Chefman Brand Information
Chefman's culinary Mission
Chefman's main mission is to create culinary masters in every household. They want to help you to master the art of cooking. Chefman does that by providing innovative hardware, software and inspiring content to its users. Their products help in creating awe-worthy meals every time – no matter how simple the meal. Chefman also has a great customer support system. They quickly respond to any complaints and questions about the product's warranty.
Club Chefman And Chefman Waffle Maker
Chefman waffle maker comes in several different models – Chefman perfect pour Volcano Belgian waffle maker, Chefman 4 slice waffle maker and Chefman rotating Belgian waffle maker. The purchase of any of Chefman's products grants you access to Club Chefman. There you can find hundreds of recipes for any occasion and video tutorials made for all Chefman's products. It's equipped with My Cookbook feature to provide you with the ultimate Chefman experience.
Where Can You Buy Chefman Waffle Makers?
Chefman waffle makers are offered at many different retail stores, but the best online retailer is Amazon. The official site of this brand automatically redirects you to Amazon for the best deals. There, you can find both used and new waffle makers at great prices. Shopping from Amazon also allows you to compare different types and brands of waffle makers, as well as to read reviews about the product.
Best 3 Chefman Waffle Makers
Chefman Belgian Volcano Waffle Maker
Anti-overflow Belgian waffle maker is the perfect appliance for mess-free and stress-free waffles. It has an innovative award-winning design that seals in batter while cooking. It's easy to operate with and allows you to create the perfect breakfast, lunch or dinner every time.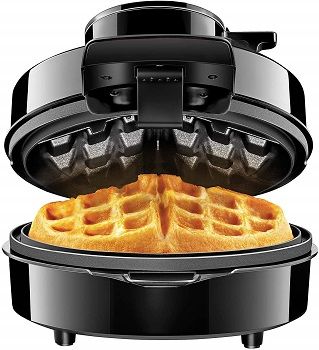 Perfect Pour Belgian Waffle Maker Characteristics
This waffle maker comes with a batter measuring cup helping you to pour the perfect amount of batter. Its extra-strong non-stick coating allows for easy cleaning. It requires some practice with achieving the perfect batter consistency, but once you do perfect waffles are only 3-4 minutes away!
Chefman Perfect Pour Waffle Maker Additional Information
Chefman's perfect pour waffle maker dimensions are 8 x 11 x 5 inches. It weighs only 4.85 pounds. The ability to store it vertically makes it perfect for any kitchen cabinet. Perfect pour waffle maker is approved with advanced safety technology and comes with a 1-year warranty.
Features:
Innovative design which seals batter in while cooking
Non-stick plate coating
8 x 11 x 5 inches, 4.85 pounds
Vertical storage allows for space-saving
Comes with a batter measuring cup
Chefman 4-slice Belgian Waffle Maker
Chefman 4-slice Belgian waffle maker allows you to create perfect restaurant-style waffles from your home. Your waffles can now have deep pockets to take on even more toppings – you don't have to slow down with fruit, ice cream or syrup!
Creating Perfect Waffles With 4-slice Waffle Maker
Non-stick cooking plates and cool-touch handles make your cooking experience enjoyable and your waffles more delicious than ever. This 4-slice waffle maker comes with adjustable browning control. With this option, waffles are customized to your liking, and everyone can be happy! Lower setting will create light, fluffy waffles. A higher setting will please those who seek for more golden and crispier waffles.
4-slice Waffle Maker Additional Information And Warranty
Chefman's 4-slice waffle maker is slightly larger than the previous model. Its dimensions are 10.8 x 5.4 x 14.4 inches and it weighs 5.5 pounds. Despite it being bigger in size, it can still be stored vertically to save counter or cabinet space. This waffle maker is approved with advanced safety technology for long-lasting durability. Despite that, a 1-year hassle-free warranty is provided by Chefman.
Features:
Non-stick cooking plates
Cool-touch handles for easier handling
Adjustable waffle browning control
8 x 5.4 x 14.4 inches, 5.5 pounds
Chefman Rotating Belgian Waffle Maker
Chefman rotating Belgian waffle maker provides with equally delicious waffles each time. This non-stick 180° rotating waffle maker creates Belgian waffles with extra deep pockets. It also comes with a practical flip system to help batter fully coat the cooking plates. All this results in evenly cooked and amazing waffles ready to be eaten.
180° Rotating Design And Adjustable Timer On Belgian Waffle Maker
The rotating waffle maker's flip system is here to help with uneven batter plate coating. This convenient flip system will spread your batter evenly across the plates and cook your waffles evenly. Just like the previous model, this Chefman's waffle maker also has an adjustable browning control dial. It allows you to be flexible with your waffle creation, making cooking a truly enjoyable experience. Lower setting on the timer will please those who love light and fluffy waffles. Perfectly gold and crispy-on-the-outside waffles can be made on a higher temperature setting.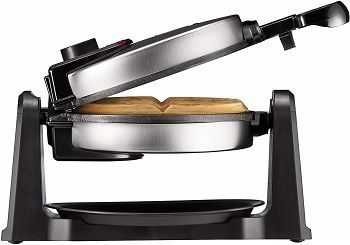 Rotating Belgian Waffle Maker Cleanup And Storage
Unlike the Chefman's waffle makers, this rotating Belgian waffle maker has removable drip tray. After usage, the tray is easily removed and easily cleaned. Washing with mild dishwashing soap and a rinse with warm water should do the trick. Dimensions of 15.6 x 10 x 7 inches may not make it Chefman's smallest waffle maker, but weighing in at 4.78 pounds it is the lightest. Like other waffle makers, it can be stored both vertically and horizontally. This product also comes with a 1-year warranty.
Features:
180° flip system for even batter coating
Adjustable browning control dial
Removable drip tray for easy cleaning
6 x 10 x 7 inches, 4.78 pounds
Vertical and horizontal storage options
Chefman Waffle Maker Manual
User guides for all Chefman's products can easily be accessed on their official website. You can browse the product categories and download the guide that you need. At the end of each guide, you will also see a warranty card and instructions to log-in to Club Chefman.
Conclusion – Which Waffle Maker Will Be Your Best Buddy?
The 4-slice Belgian waffle maker is perfect for family mornings when you need fluffy waffles prepared quickly. The adjustable browning control ensures that the event`s pickiest eaters will be satisfied! If you struggle with achieving the perfect thickness each time, then Chefman rotating Belgian waffle maker is the one for you. This 180° flip waffle iron with an adjustable timer helps you make perfectly thick and fluffy waffles every time.
If you are interested in top rated waffle makers in you can read this article here. Here you can read about other Belgian waffle makers with removable plates, and here you can find another article about rotating waffle makers.