Interested in buying a Marvel waffle maker?
In that case, keep on reading!
I will present to you 3 superhero waffle makers and all their technical specifications along with special features from each one. So, in the end, you can decide which one works for you.
Prices Of Marvel Waffle Irons
For such a large brad these superhero waffle irons are quite affordable when compared to other waffle irons on the market. Price, however, does not dictate their quality, as by some reviewers online these are high-quality waffle makers. Fun in the kitchen and on a budget!
Customer Service and Refund Policy
If you have any problems or questions you can contact their customer service via e-mail on their official shop site, they'll get back to you as soon as possible. In case you're not happy with their product within 30 days you have can ask for a refund and ship it back to them, they even include a pre-addressed label attached to your packing slip.
Where Can You Buy A Superhero waffle maker
They are currently available for purchase via online retailers such as Amazon. There you can also keep an eye out for discounts and other perks. Also, you can read reviews from people who bought marvel waffle makers and own the ones that pique your interest.
Top 4 Marvel Waffle Irons
Marvel MVA-281 Avengers Waffle Maker
Marvel 4 slice waffle maker
This model has 4 different waffle pans so each baking will give one member of Avengers team – Hulk, Captain America, Iron Man, and Thor. This feature is really helpful for all those busy mornings and perhaps for a themed party when you want some more variety with your snacks.
Non-stick surface
The surface of pans is made from non-stick material which makes cleaning really easy. Once your waffles are done, let the waffle iron cool down a bit and then just wipe it down with a towel. You can also use some warm water and a cloth.
Easy to use control board
There are power and ready lights in front of this marvel waffle iron to help you so your waffles don't burn and also so that you don't start pouring your batter into cold pans. In between, you will find a control button that controls your preferred browning level.
Why buy this product:
4 waffle slices in one baking
Easy to use with extra control
Adjustable browning level
Non-stick waffle pans
Marvel Avengers 2 Slice Waffle Maker
Latching handles
This superhero waffle iron closes easily in the front with a little handle, so you can store it vertically and save space in your kitchen cabinets. This feature is also used during cooking to secure the iron.
Marvel 2 slice waffle maker
This Avengers waffle maker will imprint your waffles with the classic Avenger icon as seen in all comics and movies. The molds are high-quality and made from non-stick ceramics for easier cleanup. It's the great serving size for all the occasions.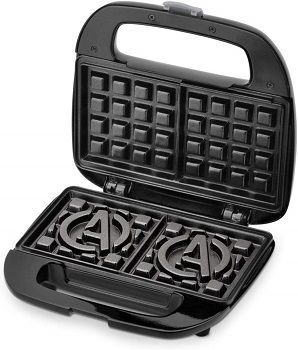 Light indicators
On the waffle maker, there are power lights to help you indicate when your waffles are done, and for a bit of extra security, it even makes a little "click" noise so your waffles don't burn. By reviewers, it takes only a couple of minutes so even for those big batches, it doesn't take that long.
Why buy this product:
Non-stick pans
Light and sound indicator
2 slice waffle capacity
Easy cord wrap
Other Marvel Avengers 2 Slice Waffle Maker Version
Spiderman Waffle Maker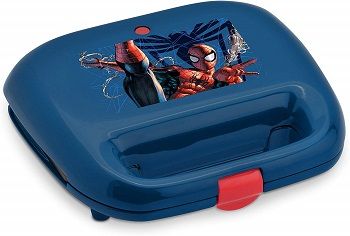 This Spiderman waffle iron has all the same characteristics as the previous Avengers waffle maker from non-stick pans to light indicators with. This model comes in black and the waffle pans make waffles with sideman's logo instead of Avenger's.
Marvel Captain America Waffle Maker
Power and ready lights
On the top, there are lights to indicate is it heated enough for waffle batter. The same story is in the end because it shows you when the superhero waffle is done. This proves to be very useful so you wouldn't end up with burned or half-cooked waffles.
High-quality mold
This Marvel waffle iron has non-stick pans which are easy to clean, and they will make the classic Captain America shield icon imprinted and shaped into your waffles. While it only makes 1 waffle per serving, they are quite big about 6-7 inches. With 760 watts of power baking, your captain American waffle will take only a few minutes.
Two sides waffles
The waffle pans are actually two-sided so once side comes out in the captain American logo and other as a classic waffle. This gives the waffles fluffy and full taste also known as classic Belgium waffles while also being a bit crispy. Plates are non-removable but since they are non-stick it shouldn't be a problem because as I mentioned cleaning them is fairly simple.
Why buy this product:
760 watts of power
1-year limited warranty
Non-stick baking surface
Power and ready lights on top
Conclusion: Why You Should Buy These Marvel Waffle Makers?
The first waffle maker mentioned in this article, the 4-slice Marvel waffle iron, has amazing 4 at once waffle capacity and good quality features you can count on, so this one would be amazing for themed parties or perhaps marvel movie nights. On the other hand, the Spiderman waffle maker is very easy and quick to use with 2 waffle pans which makes great serving per person, and Spiderman's logos on each one makes it a must-buy for all spidey-fans out there.
If you're looking for more generic and classical waffle irons, feel free to check out this top-rated waffle maker article. Maybe superheroes aren't your thing but would still like to have some fun with your waffles in the kitchen in which case check out these articles on mini mickey waffle makers and shaped waffle makers.