Are you looking for a waffle cone maker for your home or business?
If the answer is positive, then this post is just for you. Keep reading and find out more about the ice cream cone machine and see which are best-rated waffle cone machines for sale. These 5 reviews might help you to decide which waffle cone maker to put on your buying list.
What You Should Know About Waffle Cone Maker?
What Is Waffle Cone Machine?
This is a waffle maker that cooks thin waffles suitable for rolling. The waffles have a well-known ice cream trellis press, but you can also find different patterns and shapes like bubble and Taiyaki. The cone waffle maker cooks in the same way as other waffle machines.
Where Can You Use Waffle Cone Machine?
The waffle cone maker can be useful for your household as well as for your job. If you like to eat ice cream cones at home, you don't have to buy cones in the market but use this waffle cone maker to cook your own cones. If your business consists of ice cream producing, the cone maker might be indispensable for you.
Can You Use Classic Waffle Maker For Cone?
It's not possible to use whichever waffle machine to make cones. Classic waffle maker bakes thicker waffles, like Belgian, but cone waffle maker cooks thin waffles with adjusted shape and size. So if you already have a waffle maker and want to make ice cream cones, you have to buy a new specialized cone waffle maker.
Is Profitable To Buy Cone Waffle Maker?
The ice cream cone maker is worth to buy if you intend to use it often. Then, the cone maker is a better option than buying cones in supermarkets. This machine is definitely profitable for your restaurant, Caffe bar or another business. You will save your money if you cook cones at work instead of supplying.
Top 5 Waffle Cone Makers On The Market
Best Commercial Waffle Cone Maker
Intbuying Electric Dual Cone Waffle Baker
Two Waffles At The Time
This commercial waffle cone maker has two plates that are separated, just like their control panels. This is helpful for work because you can switch on only one plate if you don't need another one. On the other hand, if you have a lot of customers, you can use both plates to make your service faster.
Making Ice Cream Cone Quickly
The grids have a round shape and trellis pattern. The size of the waffles is adjusted to make the optimally sized cone. After cooking, you can make a cone using a roller. It takes about a minute for the waffle to be baked. When it's already hot, you can shape ice cream cone easily.
Removable Anti-Slipping Handle
The material of this commercial ice cream cone machine is stainless steel, so if you plan to have your industry for a longer time, you can buy this cone maker. The grids have a non-sticking coating, which eases your work. There are two handles, which prevent the hand from slipping. The handles are removable.
Soft Grid Cleaning 
For cleaning this industrial waffle cone maker, you can wipe the grids with a wet cloth, but a lot of water isn't advisable. The grids are made of non-sticking material, which is good for easy cleaning, too. So you don't have to use hard cleansers and this way you will make damage.
Heat Adjustment And Timer
Under both plates, there is a control panel with buttons for temperature regulation. You can set the heat strength of this ice cream cone manufacturing machine depending on your needs. There's also a button for the timer which can help you while you're busy.
Specifications:
60-second cooking
two separated plates
removable handle
Best Bubble Waffle Cone Maker
CucinaPro Bubble Waffle Maker
Attractive Design
This Cucinapro waffle cone and bowl maker has different press than most of the cone markers. The difference is that it makes bubble waffles. These waffles are thicker than usual cone waffles, but you can also roll the waffle in ice cream cone shape. The bubble waffle cones have an attractive design, so this delicacy is suitable for your work, too.
Longer Cooking Time
The cooking time of this bubble cone maker is longer than other ice cream cone machines. That's because the bubble waffles have a bigger size. But the cooking time isn't much longer than for Belgian waffles, so it takes about 5 minutes for them to be cooked.
Easy-To-Maintain Machine
This bubble waffle cone maker is small enough to fit your kitchen or workplace. It has a handle lock mechanism to make cooking better and to prevent accidents. It's easy to maintain because it has no sticking material, so you can clean this Puffle cone machine easily.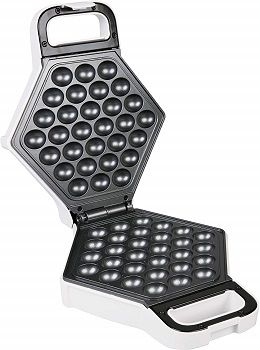 Light Indication System
You will know it's time to take the waffle out when you notice green indicator light. The red one which stands next to the green light means the Cucinapro waffle cone maker is under the power. Before cooking, you have to preheat this Puffle cone maker. Then the green light is also the sign that the waffle maker is ready.
180 Degrees Flip Option
To avoid the best-browned bubble waffle, you can flip the bubble waffle maker for 180 degrees. So if you turn the waffle maker on the other size after about 2 minutes of cooking, the batter will spread correctly and the waffles will be more quality. You should cook about 2 minutes more and then turn back the waffle maker before you open it.
Specifications:
non-sticking plate
about 5 minutes of cooking
handle lock
flip system
Best Fish Shaped Waffle Cone Maker
ALDKitchen Fish Taiyaki Cone Maker
Fish Shaped Grid
This is one more innovative designed cone maker. It includes one fish shape cone grid. This fish cone maker is about 21 inches long and 15 inches wide. So you have to ensure enough space for it. If you have to move this Taiyaki cone maker, its tiny feet may ease you. It's suitable for home cooking as well as for restaurants, cafes and food shops.
Up To 300 Degrees Temperature
This fish ice cream cone maker has ultra-high 2000W power and a voltage of 120V. Its material is stainless steel and it's corrosion-resistant, so you can use it and even leave it outside. It has a control panel that you can use to set the temperature form 50 to 300°C. The plate is separated from the main heat part of the machine, which makes the waffle machine safe from burning. The machine has CE certification.
Wooden Practical Handle 
The grids of this fish waffle cone maker are about 16 inches long, so you will get big fish-shaped waffle cones. It's simple to make them. You pour the batter in the left grid and cover it with another grid. You can use the practical long wooden handle.
Less Than 5 Minutes Baking
This fish-shaped waffle cone maker has a Teflon plate that prevents from sticking. You can take out the waffles after about 3 minutes of baking. The Teflon surface is also easy to clean. After usage, you should wipe the grids with a damp cloth and after that with dry cloth.
Specifications:
open mouth fish-shaped waffle cone
temperature regulation
for home and business
CE certification
Best Double Waffle Cone Maker
Waring Pro WWCM200 Cone Maker
Flipping Mechanism 
This Waring Commercial waffle cone maker has two round-shaped grids with a well-known ice cream cone texture. Although it includes two grids, this waffle cone maker takes a little bit of space because it has a rotating mechanism. So you can pour the batter on the one side and flip the waffle maker to pour another grid.
Audio "Ready" Notification
You will see when the waffles are ready when the green button lights up. There are two green indicator lights on both sides of the plates. Besides light indication, there is also sound notification when the maker is preheated and when the waffles are browned. On the control panel, there is an operation button you can use for temperature regulation.
About 120 Waffles Per Hour
This Waring cone maker can cook two waffle cones at the same time. The average cooking time is 1 minute, so with double plates, you can make about 120 waffles per hour. When the waffle is cooked, you can make the cone shape using the forming roller and more tools you will get in the package.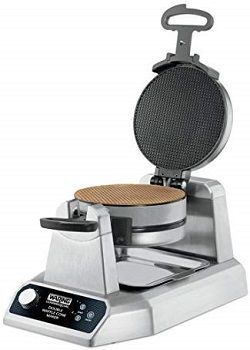 Customer Health Protection
This Waring waffle cone maker has NSF certification, which means it's safe for usage. This certification is important if you use this waffle cone maker in industry or other businesses. It's especially meaningful if this waffle machine stands near the customers.
Specifications:
double plates
flip mode
light and sound notifications
forming tools included
NSF certification
Best Mini Waffle Cone Maker
Chef Buddy 82-MM1234 Waffle Cone Maker
Ideal For Home Usage
This electric waffle cone maker has a small design, ideal for home cooking. There is one round grid where you can cook the waffles and form them in ice cream cones. In the package with the waffle maker, you can find the roller, too. The waffle diameter is smaller than usual, it about 2 inches.
Ready For 3 Minutes 
This Chef Buddy waffle cone maker produces thin waffles that are ready for 2-3 minutes. When you see the green light, will know when you can open the waffle cone maker and check the waffles. On the interior plate, there is also a red light button which is switching on all the time when the waffle maker is under the electric power. So take care of red light to check if you took out the cable.
No Heat Levels Marks
Next to the indicator lights, there's also a heat regulator. There are not temperature or heat levels marks, so you have to estimate the heat strength you set. The waffles will be baked better if you lock the handle correctly. There is not so long handle, so you can take care while using it.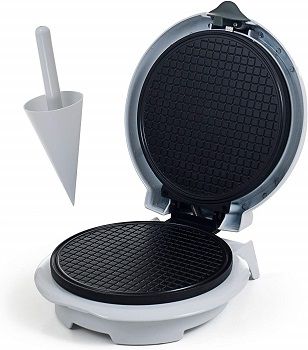 Safe For Usage
This small ice cream cone maker has a power of 750W and can work on the 120V. This product has CE and ETL approval, so it's safe to use at home, but this certification allows you to use it for business, too. You can clean the grid surface quickly because of its non-sticking coating. The wet sponge or cloth is good for maintaining the surface clean.
Specifications:
small size waffles
heat regulation
up to 3 minutes of cooking
Conclusion: Which Waffle Cone Maker Is The Best Choice?
All the waffle cone machines I reviewed are safe for use and productive, so you can use them for home and work needs. If you need it for work, I recommend this Waring commercial waffle cone maker because it has an innovative flip design, so the machine doesn't take a lot of places. The CucinaPro waffle cone maker is also appropriate both for work and at home. It cooks attractive bubble shaped waffles.
If you like bubble waffles, you can discover more models in this post about bubble waffle maker. If you like flip option like the Waring Pro model includes, this post about rotating waffle maker may be for you. And if you want to see more waffle maker models, you can check this post about the best waffle maker.