Are you thinking about buying yourself a Villaware waffle maker or you just want to know about their waffle makers?
You've come to the right place! This article will review for you their most popular 5 waffle makers. You will be able to compare their characteristics and decide which Villaware waffle could be appearing at your table next.
More About Villaware Brand
Villaware Company History
Villaware company has been founded at the beginning of the 20th century by an Italian immigrant Angelo Vitantonio. Throughout the years they have been supplying their customers with high-quality kitchen appliances which enabled them to survive in the competitive market.
Villaware Products Today
In the past years, Villaware stopped existing as a brand for itself. Villaware Manufacturing Company was merged with a company Foodsaver in the early 2000s, and today they are owned by Newell Brands. Despite that, Villaware remains a brand name for their waffle makers, blenders, food processors and panini grills.
Villaware Customer Support
Since Villaware was merged with other companies they've shut down their official website. In today's day and age, it may be unconventional for a brand to shut down their website, but Villaware made sure that this won't affect their customer support. Their 'website' today exists only with a customer support form where you can contact them about any inquiries you may have about their products.
Where To Buy Villaware Products
Villaware waffle makers and other products today are mostly sold on websites such as Amazon. Amazon is a great place to get these waffle makers at great prices. Not only will you be able to find the best deals, but you can also compare all waffle makers on the spot and choose between used and new Villa waffle makers.
Best 5 Villaware Waffle Makers
Villaware Uno 4 Square Belgian Waffle Maker
Villaware Uno 4 square Belgian waffle maker bakes four Belgian waffles which are 4 ½'' big and 1 ¼'' thick. These Villaware waffles are baked on a 10'' non-stick grid at the same time. This Villaware Belgian waffle maker received awards for design excellence in 2002.
Villaware Belgian Waffle Maker 4 Square
Villaware Belgian waffle maker 4 square can customize your waffles to give you the best Belgian waffles at all times. this Villaware Uno waffle maker model comes with a precise browning control button. It has seven temperature settings and you can hear a chime signal when your waffles are done.
Villaware Belgian Waffle Maker Characteristics
This Villaware Belgian waffle maker weighs 7 pounds and its dimensions are 11.5 x 4.5 x 14.4 inches. This Uno waffle maker can be easily stored in your cabinet, thanks to the bottom which you can wrap your cord around on. In addition to that, it can also be stored upright.
Characteristics:
Bakes 4 Belgian waffles at a time
Precise browning control dial
Non-stick grid
Weighs 7 pounds
Dimensions are 11.5 x 4.5 x 14.4 inches
Villaware Boat Maker
Villaware boat maker is also a model from the Uno series. This Uno waffle maker bakes a single Belgian waffle which is 6 inches in diameter. This Villavare waffle is especially adorable for kids as it features boats – this, however, doesn't mean that everyone can't enjoy them!
Villaware Uno Waffle Maker
This Villaware Belgian waffle maker comes with power and ready indicator lights which indicate when your Villaware waffle iron is properly heated and ready for baking. Non-stick coating on this Villaware waffle maker will make your waffle removal and clean-up a breeze!
Villaware Belgian Boat Waffle Maker Characteristics
Villaware boat maker comes with cool-touch handles to reduce accidental burnings and variable temperature control. This model of an Uno waffle iron also features a convenient cord wrap and can stand upright for compact storage. The dimensions of this Villaware boat maker are 12.4 x 9.2 x 4.3 inches and it weighs 5.4 pounds.
Characteristics:
Bakes a single Belgian waffle with boats
Power and ready indicator lights
Non-stick coating
Cool-touch handles
Weighs 5.4 pounds
Dimensions are 12.4 x 9.2 x 4.3 pounds
Villaware Waffle Stick Maker
Villaware waffle stick maker is a bit different than all the other classical Villaware waffle makers. This Villaware waffle iron bakes bolden brown waffles which can be pulled apart in 6 sticks. Each stick is 4 ¾'' by 1 ½'' big.
Villaware Stick Waffle Iron
This model of Villa waffle maker has heavy die-cast grids. The grids on this Villaware waffle iron are coated with a durable non-stick finish for foolproof release and quick cleanup. Villaware waffle stick maker also features a browning control. Seven browning levels offer you customized waffle crispiness.
Characteristics Of Villaware Waffle Stick Iron
Villaware waffle stick maker comes with a red preheating indicator light, WaffleTone signal, and green ready light. This means no more burnt waffles! This Villaware waffle maker weighs 6 pounds and its dimensions are 10.6 x 4.3 x 11.4 inches.
Characteristics:
Bakes 6 waffle sticks
Die-cast non-stick grids
Adjustable browning control button
Weighs 6 pounds
Dimensions are 10.6 x 4.3 x 11.4 inches
Villaware Krumkake Baker
Villaware krumkake baker is a unique waffle maker that bakes traditional Scandinavian cookies. Two krumkakes are baked at the same time and they are both thin and they are 5 inches in diameter. What makes this Villaware krumkake maker special are decorated grids that create intricate patterns.
Krumkake Maker Baking & Maintenance
Villaware krumkake maker has specially engineered a grid-hinge system which will provide you with the thinnest krumkakes! A steam guard will protest your hands and you don't have to worry about the messy kitchen because its special non-stick surface can be cleaned with as much as a damp cloth.
Villaware Krumkake Maker Characteristics
Villaware krumkake baker features an automatic thermostat and indicator light. This Villaware waffle maker comes with included wooden cone roller and has a 9-year warranty! Villaware krumkake maker weighs 5 pounds and its dimensions are 10.2 x 10.5 x 5 inches.
Characteristics:
Bakes two 5 inch krumkakes
Special grid-hinge system
Automatic thermostat and indicator light
9-year warranty
Comes with wooden cone roller
Weighs 5 pounds
Dimensions are 10.2 x 10.5 x 5 inches
Villaware Heart Shaped Waffle Maker
Villaware heart-shaped waffle maker bakes a 7 ½ inch Scandinavian waffle which can be separated into five hearts. With 6 setting browning control, this Villaware waffle maker will create customized waffles every time.
Villaware Classic Waffler Heart Shaped
Villaware heart waffle maker has non-stick grids which ensure easy waffle removal and effortless clean-up. Automatic light on this Villaware waffle iron will let you know when to pour your batter and remove the waffles. Villaware waffle tone additionally notifies you when your waffle is done. Villaware heart-shaped waffle maker has tubular heating elements that won't break or crack for even heating and baking.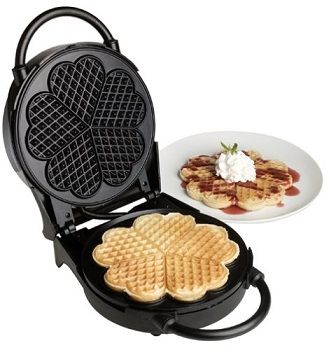 Villaware Waffle Maker V3100
Villaware waffle maker V3100 can be stored upright and you can wrap the cord around the base for easy storage. Villaware heart waffle maker also features cool-touch space-saving handles. This Villaware waffle iron weighs 4 pounds and its dimensions are 8 x 11 x 4 inches.
Characteristics:
Scandinavian waffle separated in 5 hearts
Non-stick griddles
Villaware waffle tone
Upright storage
Weighs 4 pounds
Dimensions are 8 x 11 x 4 inches
Conclusion – Which Villaware Waffle Maker Should You Get?
Villaware waffle maker is a great choice whether you like Belgian waffles or Scandinavian waffles. Villaware Uno 4 square Belgian waffle maker will provide you with perfectly baked waffles in no time, every time you use. They are so delicious that 4 at a time might still not be enough! If you like heart-shaped waffles and you like Scandinavian waffles then this Villaware heart waffle maker is the one for you. Grids which don't crack and Villaware waffle tone, Villaware heart maker has it all.
If you are interested in reading more about best waffle makers then keep reading this article here. More about other heart-shaped waffle makers you can find out here. Here you can learn more about Belgian waffle makers.