Are you too busy to spend your time waiting for the waffles to be baked?
Then, a double waffle maker could solve your problem.
In this post, you can learn about the dual waffle maker and also read 5 reviews of the best double waffle maker models. Keep reading and find out which double waffle machine is the one you need.
Things To Know About Double Waffle Maker
What Is Double Waffle Maker?
The double or dual waffle maker is a kind of the waffle maker which has two separated grids, so you can bake two big-sized waffles at the same time. You can take a waffle apart and you will get two or four small waffles. So, the double waffle maker offers you the possibility to make a lot of waffle pieces quickly.
Does Double Waffle Maker Take A Lot Of Places?
An average double waffle maker has double length, so it takes more space than a waffle maker with one plate. But, you can also find a turning dual waffle maker. It takes a place like a one-plate maker, but you can bake two waffles at the same time.
Can You Use Just One Waffle Grid?
Sometimes if you want to cook just one waffle, you can pour the batter just in one grid and nothing bad can happen. The empty plate will be hot, too, prepared for cooking. But if you don't fulfill it, this grid will get cold after some time as well as the used grid. The only thing you have to worry is not to touch the other side.
How Much Does It Cost?
If you want to buy a classic double waffle maker, you can find it for less than 100 dollars. The flip double waffle maker models are more expensive. They cost over 100 dollars, but not all of them. I will present to you the flip model whose price doesn't differ a lot from an average waffle maker.
Top 5 Double Waffle Maker Reviews
Best Double Flip Belgian Waffle Maker
Cuisinart Double Waffle Maker WAF-F20
The Flipping Mechanism
This Cuisinart model is a double-sided waffle maker. That means it has the length like the one side waffle maker, but it has adouble height of the plates. You can fulfill one round grid, cover, turn it and pour the batter in another griddle. For turning, you can use a practical handle.
Temperature Regulator Buttons
This Cuisinart double waffle maker has a power of 1400W and it supports 120V. You can regulate the temperature using the rotating button on the control panel. There is also a switch on and off button. On the inside part of the plates, the is a green light button that notifies you when the griddles are hot enough for cooking as well as when the waffles are ready for eating.
The Quality Of Material
This double rotating waffle maker is made of stainless steel. This material gives the waffle maker durability. The grids have a non-sticking coating, so you can separate the waffle from the surface easily. This material is also good for easy cleaning after cooking.
Visual And Audio Notification
The griddle is 1 inch deep, so you can make Belgium waffles. Each thick of waffles is separated on the 4 small pieces. So you can get the most 8 small waffles when cooking at the same time. The waffles need an average time to be baked. It's about 4-5 minutes. You will see the LED notification button light up and you will hear 3-beep sound notifications.
Specifications:
turning design
green light button
audio notification
easy-to-use control panel
includes temperature regulator
Best Commercial Double Waffle Maker
Black & Decker Double Flip Waffle Maker WMD200B
Belgian Waffle Shape
This Black And Decker double flip waffle maker is ideal for the business needs because it offers you to make two big Belgian or 8 small pieces at once. This double flip waffle maker has round plates which you can turn for 180 degrees with a stable handle.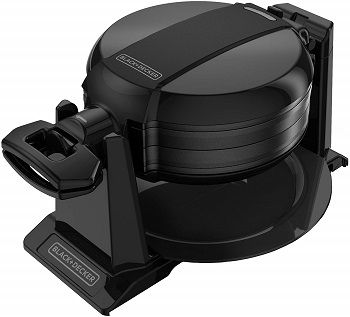 Equipment For Cleaning
This Black & Decker double flip waffle maker is made of metal material. The grid material prevents from sticking. It's also good for easy cleaning. In the package with this double waffle maker, you will find a drip tray you can set under the plates. It can help you to maintain your working place clean. It's especially important in business to avoid sanitary inspection penalty.
Handle Lock System
Unlike the Cuisinart double Belgian waffle maker that I described in the first review, this double waffle maker doesn't include a temperature regulator. You can know when the waffles are browned if you keep track of the light indicators. You can be sure not batter will leak neither the waffles will fall down because this waffle maker has handle lock.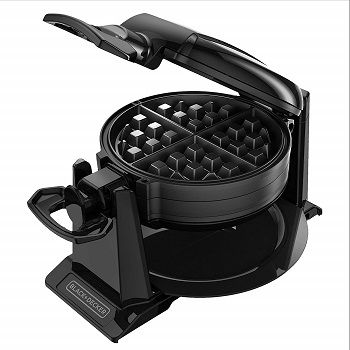 Light Baking Indicator 
Before cooking, you have to warm up the waffle maker. The light notifies you the waffle maker is under the power. When it shows up, this is a sign the waffle maker is ready for cooking. After you pour the batter in the griddles, it will need some time for the light to shows up. This means the waffles are ready.
Specifications:
deep grids
indicator light
handle lock
Best Large Double Waffle Maker
Kalorik Double Belgian Waffle Maker
One Plate Next To The Other
Unlike the previous two models on the best double waffle maker list, this Kalorik black and stainless steel double Belgian waffle maker doesn't include flip mechanism. So you can cook two 7-inch sized Belgium waffles on the two grids which lay each next to the other. Each waffle plate has 4 small separating parts, so you can make the most 8 waffles at once.
Temperature Indicators
This Kalorik dual waffle maker has a temperature regulator on the top of the cover. So you can regulate the temperature when cooking as well as before cooking. Next to the regulator button, there are red and green lights that show you when the waffles are hot enough.
The Optimal Cooking Time 
The LED indicators notify you when the temperature might be decreased enough, but you can leave the waffles for a little more time if you want the more browned effect. You will also know the waffles are ready if you can take them out. The waffle maker has a non-sticking surface, so you can pull it out easily.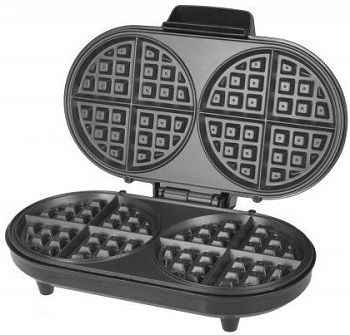 Heat Up Before Using
It's important to heat up the waffle maker before using it. You have to plug the cable into a power outlet and you will see the red light switched on. You can set the temperature and you should wait till the green light turn on. This is a sign the temperature is reached.
Waffle Maker Maintenance
The waffle maker grids have a non-sticking coating and the material is stainless steel. You can maintain this material easily. The grids are easy to clean with a dry cloth. If you lead the product instructions, you can use this double waffle maker for a long time.
Specifications:
7-inchlong sized waffles
doesn't flip
Best Cool Double Waffle Maker
Mickey Double Flip Waffle Maker
Mickey Shape And Design
This is one more double flip waffle maker. It cooks the waffle in the shape of Disney character Mickey Mouse. One plate gives you 3 small Micky shaped waffles. So you can bake the most 6 Mickey waffles at the same time. The waffle maker inside is in Mickey's design, too. On the one side, there's Mickey's face and when you flip the waffle maker, you see Mickey's body.
Small Control Panel
This Mickey Mouse double flip waffle maker has a practical handle, which allows you to operate with the maker without the injury. There is a temperature button that you can turn to regulate the heat. Next to it, there's a button for switch on/off option.
The Light Signs
This double waffle maker has 1400W power. This maker includes two light regulators that are placed outside the plates. These lights switches on when you plug the waffle maker and when the waffles are hot enough, so the meal might be ready. But before you take it out, you have to check if the waffles are crispy enough for you.
Warning During Cleaning
The plates have non-sticking material, so it's easy to clean the surface. The plates aren't removable, so make sure you plug off the waffle maker before cleaning. This waffle maker is purposed for children, but they shouldn't clean and operate with the machine without an adult person supervise them.
Specifications:
Mickey Mouse shape
6 small waffles
control panel
Best Cheap Dual Waffle Maker
Molla Premium Double Waffle Maker
8 Waffle Pieces Size
Just like the Kalorik double waffle maker, this Molla model is also a non-flip double waffle maker. It has two big plates for two big waffles or 8 small waffle pieces. It includes a handle which is safe for you and prevents burns. There is also a temperature button and LED lights.
Glass Top Part
Unlike the other double waffle makers, this one has glass made the top cover. It gives this waffle maker modern look as well as its thin size, which saves the space. You don't need a lot of place to hold this waffle maker, so it's ideal for modern apartments.
1-5 Levels Of Temperature
You can set the temperature you want for cooking. It's easy to set up using a turning button. You can choose the heat strength from 1 to 5. When you preheat the waffle maker, the best option is to set on the most level of temperature. When you pour batter, you can remove it on level 4.
Up To 5 Minutes Of Cooking
You should season the surface using cooking spray after the waffle maker is heated. It takes 2 minutes to be ready for baking.  The cooking time for waffles is about 2-5 minutes. The cooking time depends on how crispy you want for the waffles to be baked.
Red And Green Lights
There are two light indicators which help you to use this waffle maker. You will see a red light when preheating and the green light when the temperature is reached. Moreover, the green light is also a sign that the waffles could be ready, but you can leave the waffles inside even longer.
Specifications:
made of glass
2-5 minutes of cooking
no flipping option
Conclusion: Which Is The Best Double Waffle Maker?
If you need a double-sided waffle maker, I recommend this Cuisinart double flip waffle maker. It has a temperature regulator and practical handle for easy 180° turning. If you'd rather wish non-flipping double waffle maker, check this Molla Premium double waffle maker. It doesn't take a lot of space and also includes a heat regulator.
If you want to see more models with the flipping option, you can read this post about rotating waffle maker. To discover more Belgian waffle makers, you can check this Belgian waffle maker post. Or in case you want to see a complete list of the top waffle makers, you can read this post.