Do you want to make your kids happy by buying a cool waffle maker?
Then you should read this post because I will present to you the best unique waffle makers you can find on the market. You can find 5 different shaped waffle maker models and choose which one you would like to have.
What To Know About Fun Waffle Maker?
What Is Cool Waffle Maker?
Cool or fun waffle maker group includes the waffle maker with different cute shaped grids. These shapes might be like animals, things, film characters and more. This waffle machine has the same mechanism as the usual waffle maker and you can pour the same waffle batter.
Where Can You Use It?
The main purpose of this fun waffle maker is for home-usage. Since the grid shapes usually show cartoon characters, these waffle makers are purposed for children. You can also use the cute waffle maker for commercial purposes. But the waffle makers like these are more appropriate for small businesses because they usually have just one grid or small grids.
The Taste Of The Cool Waffles
Cooking with a fun waffle maker is the same as cooking with a classic waffle maker. So the taste of the waffles is also the same. The only difference is in the shape. The waffles like these are attractive for children, so they can eat them and enjoy design.
Where You Can Purchase Cool Waffle Maker?
Not all the waffle maker brands produce cool waffle maker. So you can check on the official sites of the brands if there is its webshop for you to buy a cute waffle maker you like. These models are also available on other webshops like Amazon.
Are The Fun Waffle Makers Expensive?
On Amazon, there are all of the models you can read about in this post. You can open the Amazon page and see the price, too.  The average price of the cool waffle makers is 30 dollars. The fun waffle makers are between the cheapest waffle makers on the market.
Best 5 Cool Waffle Makers For Sale
Best Keyboard Waffle Iron
The Keyboard Waffle Iron Stovetop Waffle Maker
Unique Aluminum Plates
The Keyboard Waffle Iron is the name of the brand which produces this keyboard waffle iron. It's constructed of upper and down die-cast aluminum plates. The plates have a non-stick coating. This is one of the unique waffle irons because it has a computer keyboard shape.
Stove Sized Waffle
The waffle keyboard has almost the same size as the keyboard of your computer. The keyboard iron covers the whole surface of the gas stove. So this waffle maker cooks big and deep waffle. You can cut out the keyboard waffles to get more small pieces of waffles, which are Belgian style.
Short Time For Heating
This keyboard waffle maker is not electrical but purposed for stove cooking. It's large but it suits the gas stove. You can also warm this iron and cook waffles on barbeque grill or stovetop. The aluminum material ensures you the iron will be hot quickly, but if you don't heat it for a while, it's become cool quickly, too.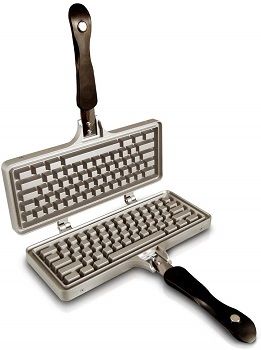 Rotating Option
This fun waffle maker includes a long and isolated handle which is practical for flipping. This way the waffle batter is spread over the whole grid surface of the keyboard iron. The flip option also enables you to check how the waffle is browned on both sides. You don't have to turn the waffle with cutlery but turn the waffle maker and open it.
Digital Recipe Book
This product may be a cool gift for your IT professionals or computer lover friends. If you buy it for a gift, your friend will get the digital recipe book. If they're a computer genius, the recipe book will be easy-to-use for them. In the recipe book, there are a lot of recipes for classic, vegan, gluten-free and more waffles.
Specifications:
stove and grill supportive
long handle
digital recipe book
makes Belgian waffles
Best Dinosaur Waffle Maker
CucinaPro Dinosaur Mini Waffle Maker
5 Dinosaur Waffles At Time
Except for this dinosaur shape, the CucinaPro brand produces the waffle makers with different waffle iron shapes, such as a snowflake waffle maker or animal-shaped waffle maker. This dinosaur waffle maker is one of the best because it cooks 5 small thick waffles at the same time.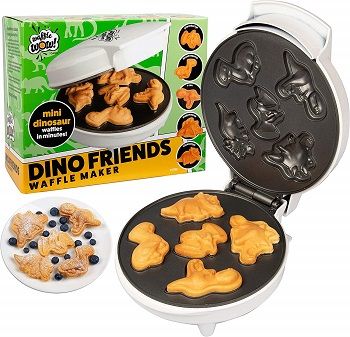 Different Types Of Dinosaurs
Cooking with this waffle maker, you can get 5 species of the dinosaurs. They are T-Rex, Pterodactyl, Brontosaurus, Triceratops, and Stegosaurus. The dinosaur waffles are thick but small-sized. The dinosaur waffles are about 2 inches long, but this size would be appropriate for kids.
No Need For Season
Unlike the keyboard waffle iron, this animal waffle maker is electric and can run on 120V electricity. The small grids are non-sticking, so you don't have to season a lot. The non-sticking material is good for easy cleaning, too. You can wipe the interior of this unique waffle maker using wet cloth or sponge.
Gift Or For Kids
You can use classic waffle batter to make these dinosaur waffles, but you can also check the recipe book which is included in the box. This can also be a nice gift for your friends or you can use it for making breakfast for your children.
Specifications:
5 different shaped dinosaur grids
thick and small waffles
Best Minion Waffle Maker
Uncanny Brands Minions Waffle Maker
Smiling Dave Shape
This cool character waffle maker comes in the yellow color, which is suitable to minion color. This character is pressed on the interior of the waffle maker. There is one round grid and it has a smiling Dave minion shape. The size of the waffle maker is about 7 inches. Not only waffles but you can also make shaped pancakes and eggs using this waffle maker.
Temperature Regulation Option
This shaped waffle maker works on 120V electricity. There is a light indication system to notify you when the minion waffle is done. You can regulate how crispy you want Dave to be. You can do this by turning the temperature regulation button on the top of the machine.
Wait For Green Light
As I've mentioned, there are two lights which show you the condition of the waffle maker. You can switch on this fun waffle maker by plugging it and then, the red light will appear. When the waffle maker reaches the optimal temperature, you will see the green light turned on. When you fulfill the grids and close the maker, you will see only red light again. The green light is a sign the minion waffle is ready.
Stand Upright For More Place
This character waffle maker is designed to fit any size place. When you finish cooking, you can leave the machine in a horizontal position if you have enough space in your kitchen. If you want to store it, you can put it in a vertical position. The waffle maker includes cord wrap, so it's simple to store it.
Specifications:
minion yellow design
one Dave minion shaped griddle
for pancakes and eggs, too
about 7 inches size
Best Snoopy Waffle Maker
Smart Planet WM‐6S Waffle Maker
Snoopy And Charlie Press
This is a cute waffle maker with the shape of the characters from the popular cartoon. You can make 3 shaped waffles at once. The shapes are Snoopy, Charlie Brown, and Peanut. The exterior of the waffle maker is red and there's Snoopy and Charlie press.
Green Light Appearance
This kids' waffle maker doesn't have a temperature button, only red and green light. The waffles are thick and small. It takes about 5 minutes for the green light to appear,  which means you can open the waffle maker. The green indicator appears twice during cooking. Firstly, when the plate is hot enough to pour the batter, and secondly when the waffles are browned.
Feet Prevent Damage
This cute waffle maker is safe for use because it has feet that make it stable. So there's less possibility for the machine to fall down and the plates get damaged. There is also a safe handle that you can use without the worry about injury. The handle is also safe for kids to operate with the waffle maker, but only under surveillance of adults.
Benefits Of Non-Sticking Material
This fun waffle maker is easy to maintain because of the non-sticking plate. Thanks to this material, cooking is also easier. The Snoopy and Charlie waffles won't stick and you will be able to throw them off the grids without a lot of attempts. After usage, the surface is easy-to-wipe.
Specifications:
about 5 minutes cooking
3 characters waffles
stable standing
practical handle
red and green lights
Best Pokemon Waffle Maker
ThinkGeek Poke Ball Waffle Iron
Poke Ball Design 
Just like the Pokemon ball is, this unique waffle iron is also red and white-colored outside. Inside, there's one round grid with Pokemon ball press. The waffle maker is about 10 inches long and 8 inches wide. It weighs about 2 lbs, so it's a very light waffle maker.
About 7 Inches Poke Ball
The waffle has a diameter of about 7 inches and the waffle has an average thickness. You have to wait about 5 minutes and then open the waffle maker, check if you like how crispy the waffle is and take it out. The non-sticking plate makes the waffles easy to take out.
Aluminum Construction
The plates are made of cast aluminum, which is easy to heat material. The grids are also non-sticking and BPA-free. That means there's no harmful chemistry included, so the Pokemon waffle maker is safe especially for children. The exterior design is safe for children, too, because of the practical built-in handle.
Long Cable Of The Maker
The pokemon waffle maker has long cable which allows you to use the machine in almost all parts of your house. You can plug the waffle maker in a 120V socket. After you do it, thanks to aluminum, it doesn't take a long time for the plates to be warm.
Pokeball Ready Time
In the top of this Pokeball waffle maker exterior, there are red and green light notification buttons. You can watch them to make sure the waffle maker is ready to cook. You will know that when you see the green light. It will also appear after about 5 minutes when the waffles will be prepared.
Specifications:
about 5 minutes cooking
Pokeball exterior design and grid pattern
BPA-free
Conclusion: Which Cool Waffle Maker To Purchase?
Which fun waffle maker to choose, it depends on which character or shape you and your kids like. If you want not only to watch nice waffles but also to eat delicious waffles, the best two choices are Minion waffle maker and Pokeball waffle maker. The main advantage of the Minion maker is a heat regulator and the Pokemon waffle maker has very healthy material.
If you're also interested in normal-shaped waffle makers, you can read this post about the best waffle maker. If you like small-sized waffles appropriate for your kids, too, here is a post about mini waffle maker. Or if you like shaped waffles, you can see more shapes in this post about heart-shaped waffle maker.