Do you love small waffles and you need a mini waffle maker for your small apartment?
If you do, then you should read this post to choose the best small waffle maker for you. Firstly, you can read some information you maybe like to know before buying a mini waffle maker. Then you can look at 5 reviews of mini waffle iron models.
What You Should Know About Small Waffle Maker?
What Is A Mini Waffle Maker?
Mini waffle maker means the waffle maker which has small dimensions, less than an average waffle maker. The waffles that this waffle maker cooks are also small. Generally, mini waffles have a size of about 3 inches, which is ideal for kids. The mini waffle maker can cook one or more small waffles, it's usually four.
Why Buy A Mini Waffle Maker?
The mini waffle maker is worth to buy if you cook waffles just for yourself or for a few persons, not a lot of people. It's definitely useful for kids' breakfast. This waffle maker is also good for you if you don't have a lot of space in your apartment. So the mini waffle maker is generally purposed for home-usage.
Is Small Waffle Maker Appropriate For Kids?
The small waffle maker is light, so the kids could carry it. But the cooking with the waffle maker isn't advisable for kids if an adult person doesn't supervise them. The small-sized waffles are ideal for children, especially if the waffles are shaped, like cartoon characters, animals, snowflake and so on.
Mini Waffle Maker Price
The small waffle maker price is from 15 to 70 dollars. So you don't have to spend a lot of money if you need a small waffle maker for your home. The amount of money you will spend on the mini waffle iron depends on the number of mini waffles, the material, and some specific features.
Best 5 Mini Waffle Makers On The Market
Best Mini Round Waffle Maker
Dash Mini Waffle Maker
Round 4 Inches Grids
This Dash mini waffle iron comes in different colors, so you can choose the one you like and which is suitable for your home design. The mini waffle maker has a round shape and makes one little round waffle. The grids has deep pocket and trellis press. The diameter of the plates is 4 inches, so the waffle has a diameter of about 3 inches.
Batter Doesn't Leak
This mini Belgian waffle maker is light because of its 1 lb, so this waffle machine can be portable. You have to ensure a little space in your kitchen for this waffle maker. The kitchen, or another place where you will make waffles, stay neat because of the grids. They're deep, so the batter stands there and doesn't leak outside.
No Crumbs Between Girds
The grids of this Dash mini waffle maker are non-sticking, which ensures you to take the waffles out of the waffle maker easily. There won't be crumbs stuck for the surface. After usage, you can simply wipe the plates with a cloth. So the cleaning of this 4 mini waffle maker isn't complicated.
Automatically Switched On
When you plug it in, this mini round waffle maker is automatically switched on. You need to wait till the grids are hot enough and then you can pour the batter. When you close the waffle maker, you will see the light indicator. When it lights on, the waffles are ready.
No Slipping Feet
Including the handle, this mini waffle maker is 6 inches long. So the handle of about 2 inches is enough for your fingers to hold the handle and pull the upper plate. Beneath the round plates, there are feet that ensure the waffle maker stability. So the waffle maker won't slip.
Specifications:
4 inches small plates
makes one small waffle
stable and safe for usage
Best Cool Mini Waffle Maker
Mickey Mouse 90th Anniversary Mini Waffle Maker
Mickey Face Shape
This mini waffle maker will kids like because of the shape of the waffle. The Mickey Mouse draw is placed on the top of the waffle maker outside, next to the indicator light. The waffle maker cooks a waffle in the shape of the face of Mickey Mouse. But the grid press is just the Mickey silhouette, there's no all details of Mickey's face.
Locking For Safety
This Mickey Mouse mini waffle maker also includes stable feet, which is good especially if the kids are around the waffle maker. There's a handle lock, too. This feature is important for you and your kids' safety. You can carry this waffle maker easily because it's light and it has practical cord wrap.
No Mess Around
The Mickey waffles don't stick thanks to the non-sticking grids. There's enough space around the grid which prevents the batter from leaking. So you won't make a mess using this mini Mickey waffle maker. After usage, you can clean the machine with a wet cloth.
Light Attention
The grids of this Disney mini waffle maker are non-sticking, so you can season the surface with cooking spray, but there's no need for a lot of seasons. When you pour the batter and close the plate, you have to take attention to the light. It switches on when the waffle maker is hot and when you can take the Mickey waffle out.
Few More Features
This Mickey waffle maker you can buy in black or red color. You can plug it in a standard polarized outlet and it works on 110V. The Mickey grids are suitable for waffle batter as well as for pancake dough. You just have to take care you don't overfill the grid.
Specifications:
Mickey face shape
black or red color
handle lock
indication light
waffle or pancake dough
Best Babycakes Mini Waffle Maker
Babycakes Waffle Stick Maker
Stick Shape Waffles
As its name says, this Babycakes mini waffle stick maker cooks small stick shape waffles, ideal for kids. They can hold the waffles in their hand easily. You can insert a stick in the waffles, too, because the waffles are deep enough. This way the children could hold and eat the waffles easier.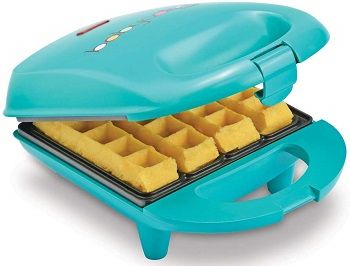 Squire Exterior Look
This babycakes mini waffle maker has a square shape and comes in blue-green color. The exterior look is similar to the Mickey mini waffle maker. There's also a handle lock and the light which notifies you when the stick waffles are prepared.
Four Stick Waffles At Time
When you open the cover, you can see the grids which give you 4 small stick waffles. You can prepare a lot of recipes. You can find ideas in the recipe book which is included in the package with this small waffle maker. There's a recipe for the batter which should be enough for making about 25 stick waffles.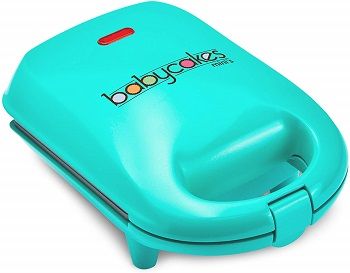 Easy Grid Wiping 
You have to take care you don't pour too much batter because it may flow out and make a mess. So the mess is possible if the batter goes out, but the cleaning is simple because the grids are non-sticking. You can clean this 4 mini waffle maker with a damp cloth gently. Before you plug the waffle maker in, make sure you wipe the grids with a dry cloth, too.
Specifications:
4 stick waffles
recipe book included
easy cleaning
modern color design
Best Heart Mini Waffle Maker
Holstein Housewares HF-09031R Waffle Maker
Opening For Stick
Unlike the Mickey and stick waffles, this small waffle maker cooks the waffle in heart shapes. The waffle maker has a red color, standard design. The waffle machine is squire shape outside and inside there are 4 heart-shaped grids. Each heart frame has a little opening for the stick.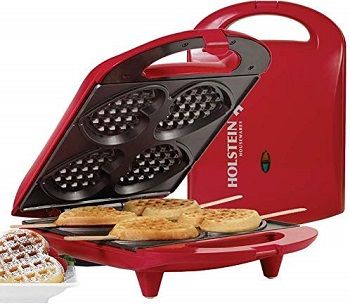 Four Small Pieces
The first step in preparing the waffles using this heart mini waffle maker is to put the sticks on the place. You should hold the stick with a hand and use another hand for pouring the batter. This way you will get heart waffles on the stick, whose size is about 3 inches. When the cooking is over, you can take the waffles out very easily by using a stick. The best is to use wooden sticks.
Practical And Safe
This Holstein mini waffle maker is practical for usage and the heart waffles are practical for eating. The sticks help you to hold the waffles, so it's ideal for kids. The lock handle and the non-slip feet make this mini waffle maker safe for usage.
Red And Green Light System
You will know this heart-shaped mini waffle maker is done with cooking when you see the green indication light. The light notification system is constructed of two lights, which is more practical than one light. Two-light system notifies you both the waffle maker is ready to cook and the waffles are ready to eat.
Saves Space In House
This mini heart waffle maker runs on the 120V electricity. When you're done with cooking, you can clean the non-sticking grids easily and also store the waffle maker easily. That's because it's designed to stand upright. This way you can save even more space in your home.
Specifications:
4 heart waffles with stick
vertical standing for storage
Best Mini Pizzelle Maker
CucinaPro Mini Italian Pizzelle Waffle Maker
Four Thin Waffles
This CucinaPro waffle maker also cooks shaped waffles. But instead of the other mini waffle makers I reviewed, this small waffle maker bakes thin waffles. There are 4 grids for thin round waffles named pizzelle. The grid press is typical for the pizzelle waffles.
Long Handle With Lock
This mini pizzelle maker has longer design than other mini waffle makers. The pizzelle have a diameter of approximately 3 inches. You can operate with this waffle maker using the long handle, which includes a handle lock. It makes cooking safer and better because the heat doesn't come out.
Red Changes In Green
On the bottom part of this mini pizzelle iron, you can notice the indicator light which helps you to make quality pizzelle. You have to be careful with pizzelle cooking because the dough is thinner than average waffle batter. To prevent burning, you have to watch when the red light changes in green light.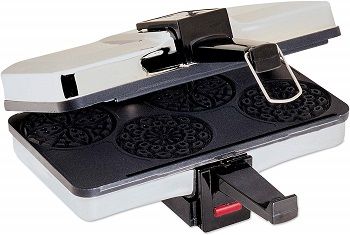 Using Wooden Tool 
You should be careful when you take the pizzelle out because you could scratch the grids. So the best is to use a wooden or soft plastic tool. The grids are non-sticking, so you will be able to throw the mini waffles out of the grids. Nonstick plates also helps you in cleaning.
Specifications:
4 small pizzelle
long handle
red and green lights
a diameter of about 3 inches
Conclusion: Which Mini Waffle Maker Is Worth To Buy?
If you're looking for a classic small waffle maker, I recommend this Dash mini waffle maker. It cooks thick small waffles that don't stick. If you want to buy a shaped small waffle maker which will please your kids, I recommend this Mickey Mouse mini waffle maker. It has a well-known grid shape and it's safe for usage.
If you're interested more in shaped waffle makers, you can read this post about heart-shaped waffle maker or this bubble waffle maker post. If you need more information about all kinds of waffle makers, I recommend you to check this post about top-rated waffle maker.