Are you interested in buying a Farberware waffle maker? Then just keep reading this article!
There are several different typer of Farberware waffle irons on the market now. This article will introduce you to all available models. You will be introduced to their characteristics and special features. This will help you to decide which one is perfect for you and will make the best Farberware waffle for you.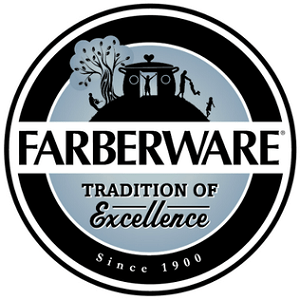 Farberware Brand Information
Farberware Products Today
Farberware is a company that produces different cookware, bakeware and kitchenware products from the beginning of the 20th century. Their main mission is to continue to provide with appliances that have the same levels of innovation, craft, and care in them as they did in beginning. They want to make cooking accessible and enjoyable for everyone.
Farberware Products Quality
Farberware products are made in a way that minimizes cleaning up and helps you make healthy and delicious meals. Their cookware is dishwasher safe and suitable for all stovetops. Not only it cleans up easily, but all the appliances come with a range of colors and style details. Farberware cookware also has non stick coating meaning that you can only cook with the ingredients you want and create healthy meals.
Farberware In The Future
Synonyms for the Farberware brand throughout the years are durability, design, innovation, integrity, and value. They aim to keep producing cookware that complies with them. Currently, they are exploring design slike hybrid ceramic nonstick and cookware technologies to continue making your cooking easier. This way of thinking ensures that Farberware products will always be a part of your kitchen.
Farberware Going Green
Not only that Farberware is interested in producing high-quality cookware and appliances, but they also take steps to go green as a company. This is of great importance today. This is the way they reduced product packaging and took recycling initiatives in place for paper, shrinking wrap, plastic, and cardboard. The company also reuses filtered wastewater and recycles all consumer products, such as returned cookware.
Farberware Customer Support
Farberware as a brand in extremely committed to high satisfaction of its customers. They offer help and assistance for their customers from the moment they place an order to later use and care of their cookware. On their official website, they have a page where you can browse frequently asked questions or leave questions, comment or reviews. They encourage customers to reach out to them!
Where To Buy Farberware Waffle Makers
Farberware waffle irons are available to purchase at a number of different stores. Even though it is possible to order them from Farberware's official website I would recommend buying them from Amazon. At Amazon, you can find them at great prices, and you can find both used and new appliances. This ensures a great Farberware waffle iron at a price suitable for everyone's pocket!
Farberware Waffle Makers
There are several other types of Farberware waffle makers which are not featured in this article. They include Farberware copper waffle maker, Farberware double flip waffle maker and Farberware removable waffle maker. All of these models feature a non-stick coating and adjustable browning control for perfect waffles. Farberware easy pour waffle maker is the only one different. It allows you to pour the batter directly through the spout on the waffle maker. Easy pour waffle maker also features the 45-degree angle for even batter distribution. Note that these Farberware waffle makers cannot be ordered from Amazon, which means they are not available worldwide.
Top 3 Farberware Waffle Maker Reviews
Farberware Rotary Waffle Maker
The Farberware flip waffle maker makes delicious homemade waffles everyone is sure to enjoy. The main special feature of this Farberware rotary waffle maker is its special rotating design. This ensures that your waffles are evenly browned and baked on all sides. This Farberware round waffle maker makes one large round waffle.
Farberware Flip Waffle Maker Characteristics
Farberware rotary waffle maker also features a nonstick surface, ensuring easy cleanup. The power and ready light ensure that your flip waffle maker is ready before the batter is added. This light also alerts you when the waffle is ready to be removed, making sure that you don't end up with burned waffles.
Farberware Rotary Waffle Iron Additional Information
This Farberware's waffle iron dimensions are 14.9 x 10.8 x 8.6 inches. It weighs 5.7 pounds. The rotary waffle maker comes with brushed stainless steel and black finish. This make sit look attractive on any kitchen surface, while compact design makes it easy to store after use. Farberware rotary waffle maker comes with a dishwasher-safe measuring cup to help you with creating perfect waffles each time.
Characteristics:
Nonstick coating for an easy cleanup
Comes with a dishwasher-safe measuring cup
Rotating design for even baking
Compact waffle maker for easy storage
Comes with a dishwasher-safe measuring cup
Farberware 201362 4Slice Waffle Maker
The Farberware 4 slice waffle maker bakes four 4.25" square waffles. Deep waffle grids ensure that your waffles will come out voluminous and fluffy each time. This Farberware waffle maker also comes with an option of variable browning control. This ensures allows you to enjoy waffles that are light and fluffy or crisp and golden brown. Perfect waffles tailored to your taste every time!
Farberware 4Slice Belgian Waffle Maker Features
The Faberware Belgian waffle maker features a stainless steel nonstick surface. This makes clean up very easy because the plates can be wiped clean with a paper towel. Faberware 4 slice Belgian waffle maker also features a power and ready indicator lights. You can easily keep track of your waffle maker is properly pre-heated for optimal waffle baking.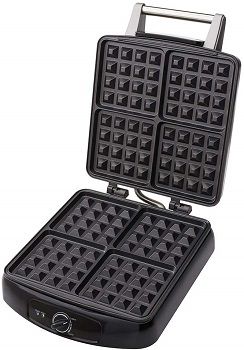 Farberware 4 Slice Waffle Maker Additional Information
This model of Faberware waffle maker weighs 7 pounds. Its dimensions are 13.8 x 10.8 x 5.4 inches. The 4 slices Belgian waffle maker has included measuring scoop. This helps with achieving proper batter amounts so your waffles can turn out perfectly each time. Measuring scoop also helps you to tailor your waffles to come out thick so you get Belgian waffles or regular thinner waffles.
Characteristics:
Stainless steel nonstick plates
The plates are easy to clean
Variable browning control for tailored waffles
Comes with measuring scoop
Farberware FSWM400 4 Slice Belgian Waffle Maker
The FSWM400 4 slice waffle maker is a newer model of the previously described Farberware Belgian waffle maker. This model also makes 4 Belgian waffles at a time and comes with a nonstick baking plate. It also has a power-on indicator light which is thermostatically controlled like the older model. This model od Farberware Belgian waffle maker comes with cool-touch housing and handles for simpler operating. The FSWM400 4 slice waffle maker can be stored upright and features cord storage which makes this product space-saving and convenient.
Conclusion – Which Farberware Waffle Maker Is The Best For You?
The Faberware rotating waffle maker is a great model for you if you love round Belgian waffles. The rotating feature makes sure that your batter will be evenly distributed each time. The adjustable browning control helps you to customize your waffles to fit your taste. Faberware 4 slice Belgian waffle maker is perfect for those busy mornings when you want bigger amounts of waffles prepared quickly. This model bakes 4 waffles at the same time and the variable browning control tailors each batch to your taste. This model has the ability to be stored upright and has its own cord storage, making sure that it fits in every kitchen.
If you are interested to see which are top-rated waffle makers available now, you can read this article here. Here you can read more about other Belgian waffle makers and this article here talks about other rotating Belgian waffle makers.