Would you like to buy a heart-shaped waffle maker?
Do you wonder which Norwegian waffle maker to choose?
Then find answers in this post. I will give you important information about the heart waffle maker. You can also read reviews of the best heart waffle maker models on the market.
About Heart-Shaped Or Norwegian Waffle Maker
What Is A Heart-Shaped Waffle Maker?
This is a type of waffle maker which you can use for making heart-shaped or, also called, Norwegian waffles. Unlike the Belgian waffle makers which grids are deep, the Norwegian waffle maker bakes thinner waffles and its grids have a well-known heart shape.
What Reason To Buy A Heart Waffle Iron?
The heart waffle maker is worth to buy if you are a Norwegian waffle fan, but you can also buy it as a gift. This machine may be useful for your meetings with friends, especially for Valentine's day thanks to its shape. Moreover, children would rather like to eat breakfast if it has an attractive shape.
How Big The Heart Waffles Are?
The plates of the heart waffle maker come in the same size as the other, round or rectangle waffle maker grids. So, that means that the size is about 7 inches. The difference is just in the thickness. The Norwegian waffle maker cooks thin waffles, which allows you to save the batter quantity.
Where To Buy Heart Shaped Waffle Maker?
This kind of waffle maker is sold in the same place as the Belgian waffle makers. That means you can find a big Norwegian waffle maker offer in the stores and on the webshops. For example, Amazon offers you all the information you need to know about the product, its pictures, and the customers' experiences.
Price Comparison
If we compare the price of all kinds of waffles makers that are sold on the market, the heart waffle maker models will take some middle place. Norwegian waffle iron price depends on the quality of the product. You can choose between more expensive models whose price is over 100 dollars or cheaper models of about 60 dollars.
Best 5 Heart Shaped Waffle Maker Models
Best Double Heart Waffle Maker
Holstein Housewares Waffle Maker
Two Big Size Waffles
This Holstein heart waffle maker comes in silver and red color. It's easily portable and doesn't take a lot of space. It has two heart-shaped grids, so you can bake two big sized heart waffles at the same time.
Preparing For 7 Minutes
Holstein Housewares waffle maker takes about 7 minutes for the Norwegian waffles to be done. You can take the waffle out easily because its surface is non-sticking. You will know it's time for taking the waffles out when you see the indicator light. This waffle maker has a red light for power indication and the green light which notifies you the waffles are baked.
Attention During Cleaning
This material allows you to clean easier, too. Since this waffle machine is electrical, you have to pay attention it's dry during usage. You should clean it with dry cloth. If you use water, you have to dry it completely before using. The waffle machine is made from stainless steel, which is durable and material and easy to maintain.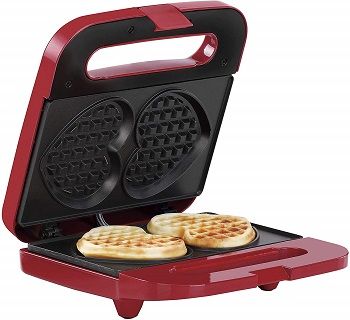 Handle Lock For Safety
This double heart waffle maker is safe for use because it has handle lock. This way you're sure the waffle maker won't open if it falls down accidentally or some another accident happens. So you won't be injured. This heart waffle maker has 760W and 120v power.
Tips For Best Results
To get the best results, you shouldn't open the waffle maker during baking. The useful tip you should also lead is not to pour too much batter in the grids. The best way is to use a big spoon and fulfill the grids one by one. To prevent scratching the surface, you should take the waffles out using wooden tools, not metal.
Specifications:
7 minutes of cooking
760W power
handle lock
Best Five Of Hearts Waffle Maker
CucinaPro Heart Shaped Waffle Maker
Standing Upright Possibility
This CucinaPro heart-shaped waffle maker is round shape electric waffle maker which can bake 5 waffles at once. You have to separate the waffle by knife to get 5 pieces. You can also eat one large waffle. This machine size is practical to keep it in your kitchen. It can stand upright for more place.
Heat Regulation Option
This CucinaPro heart waffle maker is made of stainless steel. It has a heat control button and LED light heat indicators on the top. You can regulate the temperature by turning the button. It doesn't have level marks. Next to the button, there are red and green lights that notify you about the cooking.
Waiting For Green Light
Which level of cooking to choose, it depends on your preferences. Have in your mind to preheat the waffle maker till the moment you notice the green light. Then you can pour the batter and wait when the green light switches out again. Then the results are the best.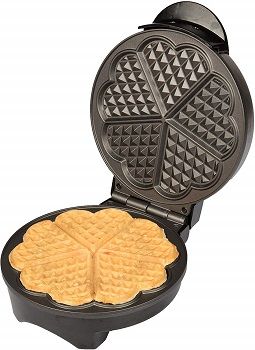 Waffles Don't Fall Apart
The waffles this maker cooks are thin and strong. That means they won't fall apart when you turn them out. That's because this heart waffle maker includes a non-sticking surface. The waffle maker has stainless steel material, which is quality and durable material.
Specifications:
1 big or 5 small waffles
non-sticking coating
stainless steel
Best Heart Shaped Mini Waffle Maker
Dash Mini Heart Waffle Maker
A Lot Of Colors
This Dash heart waffle maker can cook just the one heart waffle of 4-inch diameter. So it's practical to have at home for making breakfast for yourself. The outside part of the waffle maker is red, but you can choose this model in some other color. There is a wide offer of modern colors for the waffle maker.
Recipe Book Included
This heart waffle maker is appropriate to be a gift. The package includes recipe book which may be helpful for you or for the person you donate this waffle maker. Its small size is practical to modern small apartments. If you don't use this Dash mini heart waffle maker for some time, you can clean up it easily.
Burns Safe Handle
This waffle maker has 360W of power which allows you to cook the waffles quickly. It takes about 5 minutes to be done. Before you pour the batter in the grids, you have to wait for a green light signal. There is a handle which helps you to open and shut down the upper plate of the waffle maker. It doesn't conduct the heat, so your fingers are safe.
Reheating In Toaster Or Waffle Maker
The grid surface is non-sticking and it doesn't include PFOA which might be bad for your health. This non-sticking coating enables you to maintain the waffle maker easily. The waffles are thin enough to fit in the toaster if you want to reheat the waffles. You can also put cold waffles in this waffle maker and heat for a while.
Specifications:
one small heart waffle
compact size
about 5 minutes of cooking
PFOA free
Best Cast Iron Heart Waffle Maker
Skeppshult Waffle Heart Shape Maker
A Little Bit Different Model
This waffle maker is different from the other reviewed models in the way it's not electrical. It doesn't have a cable to plug but you can use it as the pan for a gas stove, top stove or others. This waffle iron looks like the first waffle makers which were invented in the time without electrical power.
Without Cable And Power
This Skeppshult original heart waffle maker has an antique look, which is attractive for someone, so it can be a nice gift for your friends. The advantage of this heart waffle maker is that it doesn't spend the power and you don't need a cable. So it's practical for cooking outside.
Made Of Cast Iron 
This waffle iron is all made of cast iron, so the waffles will stay warm longer. You can use it for reheating waffles, too. The iron is a durable material and good for your health. It has an average grid size. You can cook one big or 5 small heart-shaped waffles.
Like Krumkake Iron
The waffle maker is thin, so you don't have a lot of space for it. The waffles this maker cooks are also thin, so you can use it like krumkake iron for making Norwegian krumkakes. It has a long handle, so you can stand far enough away from the fire.
Specifications:
made of cast iron
no need for electrical power
cooking on stove
long handle
also used as krumkake iron
Best Home Heart Shaped Waffle Maker
Euro Cuisine Heart Shaped Waffle Maker
Practical For Small Place
This Euro Cuisine heart-shaped waffle maker can make 5 pieces of heart waffles at the time. You can separate the waffle to get 5 pieces or you can eat one big heart-shaped waffle. The grids have an average size of about 7 inches. The waffle maker can be portable and it can stand upright to give you more space in your home.
Harmless Material
This heart waffle maker has non-sticking material, but it's PTFE and PFOA free. These chemical compounds are known as risky for human health, so you can be sure this waffle maker won't harm your health. Its griddles are eco-friendly.
Temperature Controlling
But before using, the waffle maker has to be hot. You will know it's warmed enough when you see the "ready" light is on. This light is green, unlike another light which is red. This light means the machine is under power, but not ready yet.
Heat Level Choice
When you pour the batter and shout down this Euro cuisine waffle maker, you can set the temperature you like. The cooking time depends on the temperature you chose. The average time of cooking is 5 minutes, so if you set the temperature on the lower level, you will have to wait longer for waffles to be crispy. So if you want more baked waffles, take higher heat level.
Specifications:
PTFE and PFOA free
about 5 minutes of cooking
Conclusion: Which Heart Shaped Waffle Maker To Chose?
One of the best electrical heart waffle maker models is this Dash mini heart waffle maker. It has a compact size, modern design and can bake the heart waffles for about 5 minutes on the PFOA free surface. If you like vintage style and iron cast waffle makers, this Skeppshult original heart waffle maker is one of the best for buy.
For more information about waffle irons like the Skeppshult model is, you can read this post about cast iron waffle maker. If you like mini waffle makers like Dash heart waffle maker, check this post about mini waffle maker. Or if you would like to find out which waffle maker models you can buy, read this post about best-rated waffle maker.