One or two waffles aren't enough for you?
Then you need a 4 slice waffle maker which will please your need for waffles.
In this post, you can find out the information you need to know about 4 waffle maker and choose between 5 best 4 slice waffle maker models.
Information About 4 Piece Waffle Maker
What Is 4 Slice Waffle Maker?
The 4 waffle maker is the waffle maker which can cook four waffles at the same. It has one big griddle with frames that separate the griddle to get 4 smaller waffles. The 4 pieces waffle makers usually bake Belgian waffles but also shaped waffles.
The Advantages Of 4 Slice Waffle Maker
The main advantage of this type of waffle maker that you can get more than one piece of waffle for a time needed for making one waffle. So, it's good for those who are busy but needs more than one waffle piece. It's also useful for big families, collectives, and meetings. The only disadvantage of 4 waffle makers is that it may be harder to turn the big waffle using cutlery.
Does It Need More Time For Baking?
As I said, you can get 4 pieces of waffles for the usual time needed for a waffle to be baked. Although there are 4 slices of waffles, they are baking at the same time, so the multi waffle maker doesn't need more time for cooking. Four thick waffles can be done for about 5 minutes.
What's The Price Of 4 Slice Waffle Maker?
If you buy on webshops like, for example, Amazon, the average price of the multi waffle maker is 50 dollars. You can find more expensive models which have more useful features. More expensive 4 waffle makers are usually purposed for commercial needs. If you buy for home use, the waffle makers under 100 dollars should please you.
Top 5 Waffle Maker 4 At A Time
Best 4 Square Waffle Maker
All-Clad 4 Square Waffle Maker
TThis All-Clad 4 square waffle maker has squire shaped plates that are separated to make 4 smaller waffles. The waffle maker is made of stainless steel which makes this product durable. This waffle maker cooks 1-inch thick waffles. Each waffle is 4,5 inches long and wide. So if you don't want to separate the big waffle, it's 9 inches long.
Temperature Choices
You can choose between 7 heat levels of this All-Clad 4 slice Belgian waffle maker. You can regulate heats using the temperature control button on the bottom part of the housing. There are also placed two LED indicators. The red one means the machine is under the power and the green light messages you when the waffle maker is preheated and when the waffles are done.
Audio "Ready" Sign 
This All-Clad 4 waffle maker will notify you the waffles are ready with beeping, too. The sound appears firstly when the waffle maker reaches optimal temperature for cooking.  When you hear a sound for the second time, you can use the handle to open and close the waffle maker. It's also made of stainless steel, so you have to take care while touching it.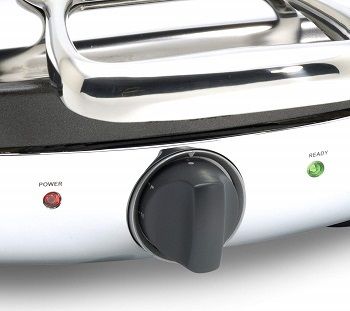 Useful Drip Tray 
The cleaning of this waffle maker is easy because the grids have non-sticking material and there's a drip tray. It collects all the crumbles which you can throw out later. The drip tray is removable, so you can clean it easily. This way your kitchen stays neat which is very useful in cooking.
Vertical Position For More Space
This 4 waffle maker can stand upright and you can shot down the plates firmly. It's possible because of handle lock. There's also a cord storage built-in. These features provide you to store it in a small place when you don't need it instantly.
Specifications:
squire 4,5-inch waffles
sound and light heat indicators
7 heat levels
Best 4 Round Mini Waffle Maker
Burgess Brothers ChurWaffle Maker
Round 3-Inch Waffles
Using this waffle maker, you can get 4 small round-shape waffles at the same time. The waffle maker has a squire shape, but inside, there are 4 round grids. The waffles have a diameter of 3 inches and they are thick almost like Belgian waffles.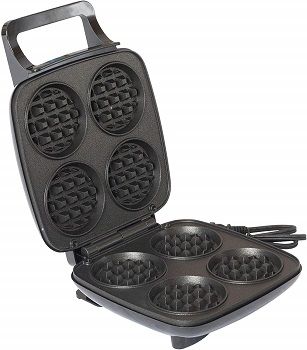 Churwaffle Recipe
This waffle maker is purposed for any type of batter. The Burgess Brother brand invented this waffle maker to cook traditional cornbread waffles mixed with a churro. But if you don't like it, you can also fulfill the round grids with any type of the batter, including pancake dough.
Waffle Mix And Recipe Included
This mixed waffle they called Churwaffle and you can find the recipe in their recipe book included in the package. When you buy a waffle maker, you will also get Burgess Brother waffle mix for Churwaffle. When you eat all of the mix, you can make a new one following the recipe instructions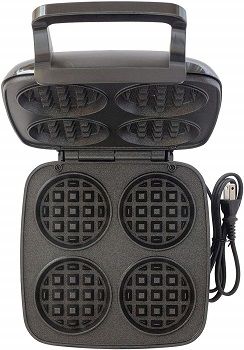 Easy-For-Cleaning Surface
The surface of the round grids is made of Teflon, so it's non-sticking material. It's practical for cooking and for cleaning. When the waffle maker is plugged out, you can wipe the plates with a wet cloth. Before using, make sure the plates got dry.
Non-Slip And Stable
You can manage with the waffle maker using a large handle built-in. The 4 waffle maker feet are stable and non-slip. On the upper plate, there is an LED indicator that illuminates red and green light, depending on the waffle maker condition. The green light will notify you the waffles are ready.
Specifications:
recipe and waffle mix included
round shaped waffles
Teflon grids
Best 4 Belgian Waffle Maker
Cucina Pro 4 Slice Waffle Maker
Unlike the All-Clad waffle maker, this Cucina Pro 4 slice waffle maker has a round shape. The round grid has separation barriers, so you can make 4 waffles on one grid. The plates are deep which provides you to have Belgian waffles. The diameter of the grid is 7 inches.
"Crispy" Level Options 
You can adjust up to 6 heat levels of this 4 waffle maker. You can turn the button as you turn using a cooker. The heat regulation button stands on the top of the upper plate. So you can adjust the temperature of cooking after you close the plate. There's also light indicators.
Beeping Notification System
This 4 piece waffle maker has a visual and audible notification system. When the waffles are cooked, you can see the red light switches on and you can hear the beeping, too. The audible system is useful if you're too busy to stand next to the waffle maker and wait for the light to appear.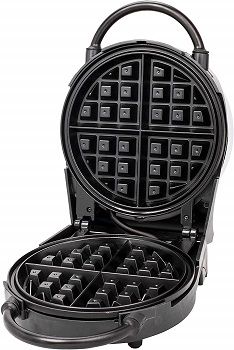 Handle Stays Cool
The housing of this 4 slice waffle maker is made of stainless steel and the interior has the coating which prevents the waffles from sticking. The useful part is the handle, too. It's big enough for a comfortable touch and it stays cold while the waffle maker is hot. You can lay the waffle maker in a vertical position and store it easier.
Specifications:
beep alarm message
6 heat levels
cool-touch handle
stands upright
Best 4 Slice Rotating Waffle Maker
BELLA (13591) Classic Waffle Maker
Rotating Feature Benefits
This Bella 4 slice rotating Belgian waffle maker has round-shaped rotating plates. You can turn the plate for 180°if you want the batter to be spread correctly through the grids. You can also rotate the plates for 90 degrees if you want to store the waffle maker on the way it takes less place.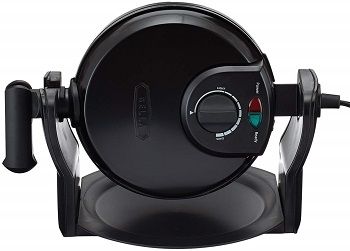 Successful Cooking 
You can pour any kind of the batter in the Bella 4 slice Belgian waffle maker and the waffles won't stick. That provides a non-sticking coating. In the Bella recipe book, you can find inspiration about what type of waffles to make. There are recipes for sweet and savory waffles.
Heat Strenght Adjustable
When you close the upper plate, you can see the rotating button which is purposed to regulate the temperature during cooking. There's no marks of the heat levels or temperature degrees but there are just light and dark marks, so you have to set the heat strength approximately.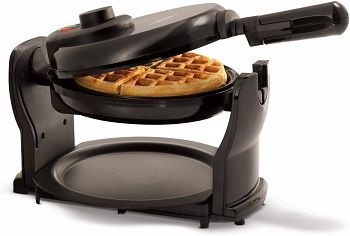 "Power" And "Ready" Marks
You can also see the marks like "power" and "ready" and they stand next to the light notification buttons. To cook the tasty waffles, you should wait for the green light to switch on. The red one lights all the time when the waffle maker is under the electricity.
Removable Drip Tray
As I've mentioned, the waffle maker surface is non-sticking, so it makes the wiping easier. You can also put the drip tray beneath the rotating plates. The crumbs that will fall down during cooking, you can throw out easy because the drip tray is removable.
Specifications:
flip mode
temperature regulating
deep waffle grids
Best 4 Large Waffle Maker
Cuisinart WAF-150 4-Slice Belgian Waffle Maker
This Cuisinart 4 slice Belgian waffle maker has stainless steel silver exterior and the non-sticking plates. The griddle is separated into four parts, so you can get 4 squire waffles at the time. The waffles are 1-inch thick, so you need to cook them for about 5 minutes.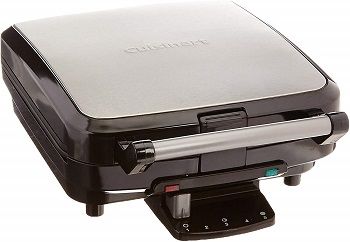 15 Inches Long 
One of the useful features of this Cuisinart 4 slice waffle maker is its easy storage. The waffle maker is about 15 inches long, but you need half less place to store it. That means the waffle maker is designed to stand upright when it's not in usage. There's also built-in cord storage which helps you, too.
Heat Strength Choices
You can choose between 5 heat levels of this Cuisinart 4 waffle maker. There's no rotating button but heat panel you can use to set how crispy the waffles be like. To set the temperature optimally, the best option is to read Cuisinart 4 slice Belgian waffle maker instruction manual.
Two Lights Illumination 
To know when the waffles are done, you should keep in your eyes on two lights. They are placed right next to the control panel. The red light is always switched on when the waffle maker is working. The green one lights on to notify you that the waffle maker is preheated enough and that you can throw the waffles out.
Specifications:
about 15 inches long
5 minutes cooking
Conclusion: Two Best 4 Slice Waffle Maker Models
If you like a squire shaped waffles, I recommend this Cuisinart 4 slice Belgian waffle maker. You will get 4 big waffles for about 5 minutes and you can set how browned the waffles will be. If you rather like round-shaped waffles, this Burgess Brothers ChurWaffle maker is good for you. You can make a lot of types of waffles and the recipe book is included. 
If you want to read more about waffle makers, you can open this post about the best waffle maker. If you like thick waffles, this post about Belgian waffle maker is just for you. Or if you like small-sized waffles, you can read this mini waffle maker post.